Mist opportunity: Former Phantoms figure in Force victory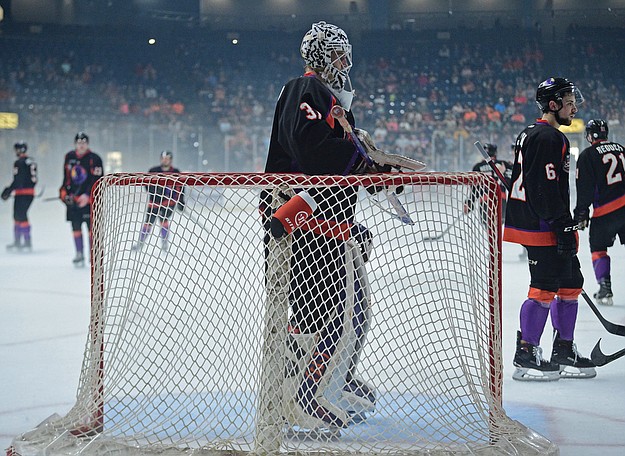 ---
Former Phantom Farmer nets Cup winner
By Tom Williams
YOUNGSTOWN
The Fargo Force overcame Covelli Centre turning into a ghostly House of Horrors to capture their first USHL championship.
With 3:54 remaining in regulation, former Phantoms defenseman Ty Farmer scored the tie-breaking goal to lift the Force to a 4-2 victory and a 3-1 series triumph Saturday night.
"It means a lot," Farmer said of clinching the Clark Cup trophy back where he began his USHL career. "I spent the majority of my time in this league here.
"I don't know — I'm sorry, I'm speechless," the media-shy player from St. Louis said.
Farmer played 39 games for the Phantoms in the 2014-15 season, then 19 the following season. He began the 2016-17 season here then finished with the Muskegon Lumberjacks.
Last summer, the UMass-Amherst recruit joined the Force.
"You hate seeing it," Phantoms head coach Brad Patterson said with a smile of Farmer's Cup-clinching goal. "But at the same time Ty did a lot for us. He was here for a long time. I love him to death.
"We still have a great relationship," Patterson said. "He'll go on to school, he'll do great things. Do I like it that he scored? No, but at the end of the day you want guys who come through your program to have good things and I'd be hard-pressed to say anything other than that.
"He had a great series."
Farmer spoke moments after he skated with the Clark Cup overhead.
"I wouldn't want to do it with any other group of guys," Farmer said. "It's amazing."
Farmer said he received kind words from his former teammates during the handshake line.
Griffin Loughran, another former Phantom, was named Clark Cup Playoffs MVP after scoring seven goals.
"He should have," Patterson said.
Last season, Loughran played nine games for the Phantoms, then joined the NAHL's Corpus Christi IceRays. He arrived in Fargo last summer and scored 18 goals and 42 points in 50 regular-season games.
Loughran said winning the championship was "unbelievable, especially here. Me and Farmer, we played here last year so it's even more special with this group of guys, especially on this ice."
Much of the first period was played in a fog. Covelli officials said Saturday's power outage downtown combined with the high humidity outside to create dangerous conditions. Pregame fireworks smoke also contributed.
Three times, play was halted so the players could skate to disperse the ghostly mist. Neither team scored in the choppy opening period.
Force defenseman Evan Bell, who scored the fluky long-range goal in Friday's 3-2 victory, snapped the scoreless tie with a power-play goal 5:15 into the second period.
Ten minutes later, Garrett Van Whye made it 2-0.
Like Game 3, the Phantoms came on strong late. Matthew Barry ignited the Phantoms by scoring with 39 seconds remaining in the second period. Then with 3:43 gone in the third, Curtis Hall tied the game.
The Phantoms dominated play the next 10 minutes, then sagged a bit just before Farmer's goal, struggling to get the puck out of their end.
"There is never quit in the guys," Patterson said. "They poured their heart and soul out there. The last three games were [tight] games that could go either way.
"We got the first one, a bad bounce breaks us last night and tonight, same idea. One play makes the game.
"It's not that the guys didn't execute," Patterson said. "And that's the hard part."