Spoken-word program encourages young people to make positive choices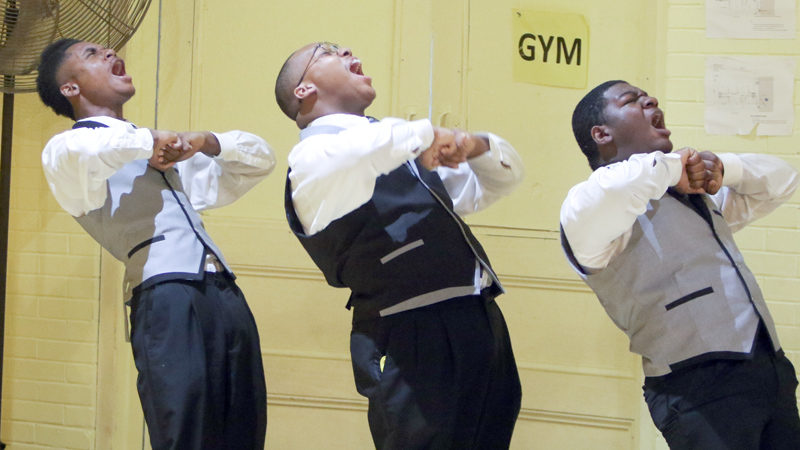 ---
By Sean Barron
YOUNGSTOWN
For much of his young life, LaVon Shepherd aspired to be a basketball player, but his penchant for writing – and having suffered from bullying – radically altered his priorities.
"I've loved basketball, but I've taken writing to a different level," the 16-year-old Cleveland ninth-grader explained. "I'd love to take poetry to be a profession – to go beyond the sky with it, to go beyond the stars."
LaVon has already gone beyond merely getting the attention of a young audience when he recited "Creep," a poem he wrote that talks about the corrosive effects of bullying. Specifically, he read the poem to students of South Side Academy, 1400 Oak Hill Ave., as part of a spoken-word program Friday morning to encourage young people to make positive choices while avoiding drugs and alcohol.
The event was part of the Substance Abuse and Mental Health Service Administration's National Prevention Week efforts geared toward decreasing substance abuse in youth. Sponsoring the performances at the school was the Coalition for Health Promotion, a project of the Youngstown Urban Minority Alliance and Drug Abuse Outreach Program.
LaVon and five other Cleveland-area youths who performed also are part of a group called The Distinguished Gentlemen of Spoken Word, made up of young people who use their talents to convey such messages. They also are committed to living lives free of drugs and violence while achieving academic excellence.
The other five were Austin Wilcox and Khalill Pegues, both 19; Isaiah Lucky, 18; Tyran Garth, 13; and Amir Wilson, 15. They also gave a performance Friday afternoon at Kirkmere Elementary School on Kirk Road.
The six performed a series of skits, poetry readings, music and movements also intended to motivate the students to believe in themselves, reach for their goals and empower them to be responsible for their own destinies.
Many bullies lash out because they fear differences, are going through their own hardships or are experiencing jealousy, observed LaVon, who added many of his peers initially failed to take his messages seriously.
To dramatize the effects of alcoholism, the group gave its interpretation of "The Bottle," by Gil Scott-Heron, a famous poet, songwriter and spoken-word performer in the 1970s and '80s. The performers also noted that an estimated 88,000 people die annually because of the disease.
A short time later, they recited a portion of the Langston Hughes poem "Democracy," for which the youngsters included a rap piece they'd written. The poem talks in part about how freedom and democracy won't come as long as people continually bargain with one another and fear what's to come.
In addition, the six read from the 1926 Hughes poem, "I, Too, Sing America," which discusses a desire for equality via perseverance while disavowing the notion that patriotism is limited by race.
Their poetry readings also included a dramatic interpretation of "We Wear the Mask," by Paul Laurence Dunbar, a black poet, playwright and novelist of the late 19th and early 20th century. The 15-line poem in essence points to the contrast between blacks' immense suffering and the perceived necessity of painting a false happy face as a survival mechanism.
More like this from vindyarchives.com