Cedar Point, Kennywood Park previews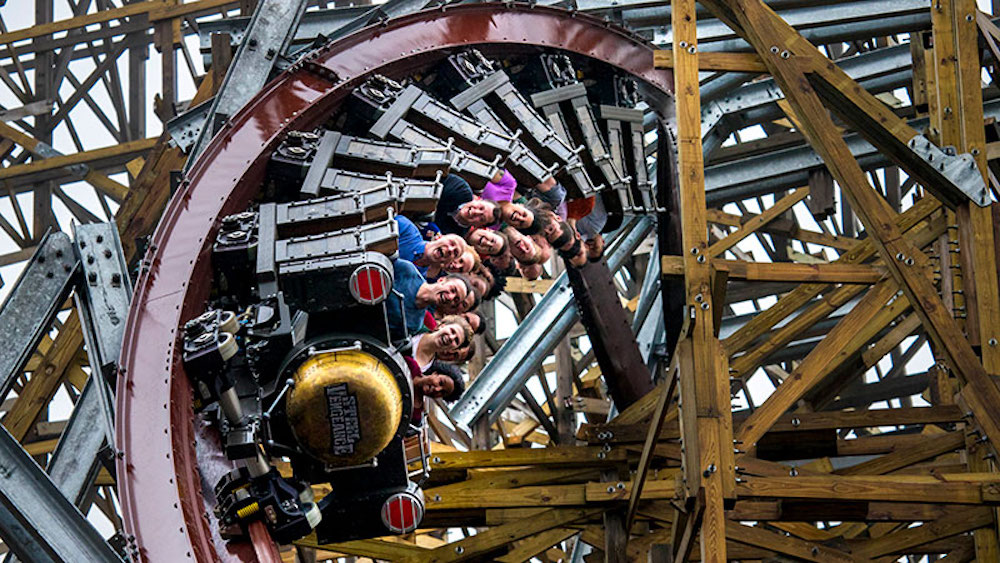 ---
If You Go
What: Cedar Point amusement park, Sandusky
Tickets: Prices vary, daily tickets are as low as $52 at cedarpoint.com
What: Kennywood Park, Pittsburgh
Tickets: Prices vary, but $41.99 ($26.99 for under 46"; $19.99 for seniors) for a regular FunDay pass at kennywood.com
By GUY D'ASTOLFO
You might want to make tracks to Cedar Point or Kennywood, because the amusement parks have added – or soon will – popular attractions that run on rails.
Steel Vengeance is now rolling at Cedar Point, while Kennywood is putting the finishing touches on Thomas Town, a kid-oriented area based on Thomas the Tank Engine that will open later this summer.
Cedar Point, which begins daily operation Friday, has introduced Steel Vengeance this year, which it is billing as the world's first hyper-hybrid roller coaster.
Steel Vengeance uses a good bit of the massive wooden superstructure of the former Mean Streak, which was a very long and boneshaking coaster. It was the tallest wooden coaster in the world when it opened in 1991.
But Steel Vengeance is a completely new ride that combines the best attributes of wooden and steel coasters.
Now riding on steel rails, the slick coaster has loops and a first hill that is higher than its predecessor.
Steel Vengeance stands 205 feet over the park, and it shatters 10 world records, including tallest, fastest and longest hybrid coaster, steepest drop on a hybrid coaster, most inversions on a hybrid roller coaster, and the roller coaster with the most airtime (that's the feeling of weightlessness).
"So far, guests have said that it's unlike anything they've ever been on," said Tony Clark, spokesman for Cedar Point. "You just don't know which way is up or if you're sideways, slantways, up or down."
Steel Vengeance is in the FrontierTown section, which is also home to some new food stops, including Sidewinder Sue's. Sue's serves up sidewinder fries – curly potato fries with choices of toppings such as pulled pork, brisket or chili. Just steps away, Miss Keat's Smokehouse offers barbecue brisket, pork, wings, sausage and savory sides, with many of the meats smoked on site.
Steel Vengeance-themed food comes to the Round Up where new gourmet burgers debut, such as the Blackjack Burger, Sizzlin' Chess Burger and the Digger Challenge Burger. Steel Vengeance Brownie Bandit ice cream is available at Toft's Ice Cream Parlor and the Vengeance Funnel Cake, available at CJ's Provisions and Bayou Refreshments, adds soft-serve ice cream, hot fudge, chocolate syrup, caramel topping and whipped cream to the famous sweet dessert.
At the front of the park, a completely renovated gift shop has opened as Point Plaza.
For those staying overnight, there are more accommodations this year.
The beachfront Hotel Breakers has added a new six-story tower, adjacent to the main hotel. Featuring a total of 669 guest rooms and suites, the classic hotel offers several guest amenities, including Early Entry – the chance to enter the park one hour before the general public to ride some of Cedar Point's biggest rides, popular dining options, discounted ticket packages and the closest rooms to Cedar Point's gates.
"We've always said that one day is not enough to experience all that Cedar Point has to offer," said Clark, citing the amusement park, the waterpark, the milelong beach and the special events. "But this also includes our surrounding area. With the Jet Express now stopping at Cedar Point to take guests to the Lake Erie Islands, there's so much more to see and do. It's a staycation that's easy to plan and enjoy."
The Lighthouse Point resort property, located on the tip of the Cedar Point Peninsula, will soon add 25 new Ultimate RV Sites that feature full hook-ups, a private patio area, dining table with chairs, built-in charcoal grill and fire pit, new restrooms and a new bathhouse. The Ultimate RV Sites will open in June.
The expanded boardwalk allows guests to take a leisurely stroll along the Cedar Point Beach from the main parking lot to the tip of the peninsula. The boardwalk also connects to Cedar Point Shores Waterpark.
For ticket information, the schedule, or to plan an overnight getaway, go to cedarpoint.com.
Meanwhile, Kennywood is preparing to open its biggest single-season project in many years.
"It is a big deal," said Nick Paradise, spokesman for the Pittsburgh-area park.
Thomas Town is built around the train ride, one of the oldest in the park. The locomotive will get a facelift to become the star of the popular animated children's television show.
"That's the centerpiece of Thomas Town," said Paradise, "but the around the train station will have four new rides and stage shows with two or three performances daily."
There will also be an indoor play area that will include Thomas episodes on screen, train play tables and a gift shop.
"It will be a great getaway if it's raining or if you need some air conditioning, or if the parents need a break but the kids are still ready to go," said Paradise.
Thomas Town will open in mid-summer; the exact date should be known in a few weeks. No extra fee will be required to enter.
In addition to the train ride, which will follow the tracks of its predecessor, four new rides will round out Thomas Town.
The rides will be suitable for almost all children, but adults can ride them as well.
On another front, the park removed the long-running Logjammer ride over the winter. Presently, the area has been cleared but Paradise would not reveal what will replace the ride.
"It's under construction now," said Paradise. "It will be Kennywood's next great attraction and speculation is running wild."
For ticket information and a complete schedule, go to kennywood.com.
More like this from vindyarchives.com