TJX wants to call Lordstown home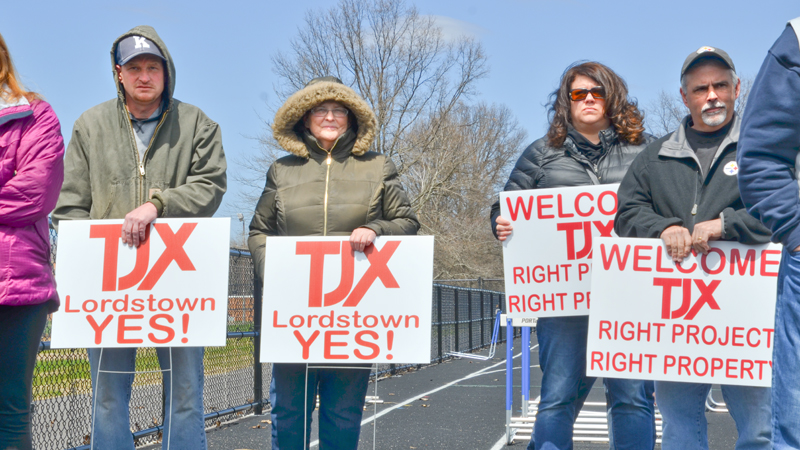 ---
By AMANDA TONOLI
and JUSTIN WIER
news@vindy.com
LORDSTOWN

Photo
Requests for soning changes in Lordstown include five parcels either on Hallock Young or Ellsworth Bailey Road that cover more than 120 acres. The two other parcels cover 174 acres.
U.S. Rep. Tim Ryan described a Sunday afternoon that drew more than 600 people who voiced their support for a proposed HomeGoods distribution center as a turning point in the company's decision to reconsider.
"They needed to know the community was behind it, and we had a packed house with all the elected officials," said Ryan of Howland, D-13th.
TJX Companies Inc., the parent company that owns HomeGoods, T.J. Maxx and Marshalls, announced April 20 it would reconsider its plans to build a $160 million warehouse and distribution center in Lordstown.
That changed Friday when the company announced its recommitment to build the warehouse at a site on Ellsworth-Bailey Road.
Lordstown Mayor Arno Hill said he'd been waiting for the call all week.
"[TJX] did tell me they vetted many other sites inside and outside of Lordstown, as well as outside of the state, and they felt the original site was the best fit for their needs," Hill said.
The city's planning and zoning commission will meet at 6:30 p.m. Tuesday at the Lordstown administration building, and zoning changes for the project will be discussed.
Hill said residents may not be happy, but time will tell after Tuesday's meeting.
HomeGoods' statement cited encouragement from the community and state and local officials to continue with its original plans for the Lordstown site.
"With the groundswell of recent support for our project, including last Sunday's community rally, we have changed our minds and are planning once again to pursue the Ellsworth Bailey Road Site for our proposed distribution center," says a company statement released Friday.
The company said no other site within the community meets all its needs.
Ryan said TJX's decision is among the best news the Mahoning Valley has received in a long time.
He thanked TJX's leadership "for their perseverance and commitment to this community" and praised local leaders for their continued support.
"Good things happen when we work together as a team – with a common mission and goal," Ryan said.
There is still more work to do, Ryan said, but the "latest development shows we have put this project back on the path to success."
State Sen. Sean O'Brien of Bazetta, D-32nd, said he believes some of the residents who initially opposed the project may be coming around as he and other leaders continue to reach out.
"The education that we got at the rally kind of made them change their mind, and they don't want a chicken farm next to their house either," he said alluding to a property owner who threatened to build a chicken farm on the site of the distribution center fell through.
Both Ryan and O'Brien commended TJX for being a "good corporate citizen" in its willingness to work with local residents.
If things go smoothly, officials said the 1.2-million-square-foot distribution center could be up and running as early as 2020.
More like this from vindyarchives.com