Snow, speed contribute to series of I-76 accidents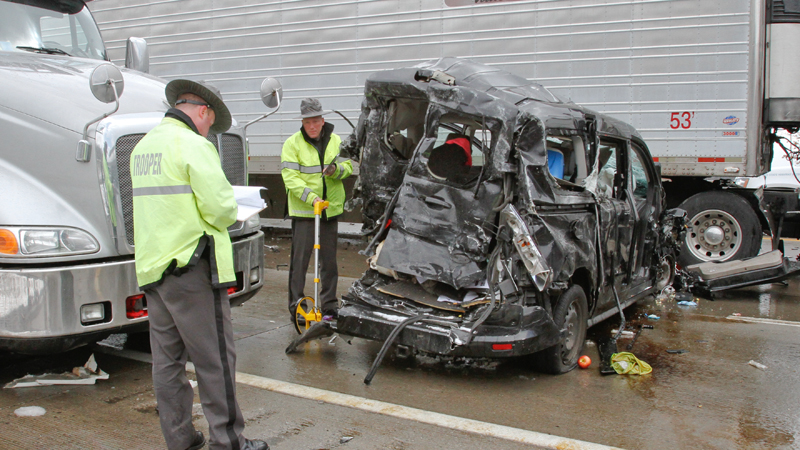 ---
By JOE GORMAN
jgorman@vindy.com
NORTH JACKSON
Ohio State Highway Patrol troopers say that snow and speed were the prime factors in a series of accidents just after noon on Interstate 76 west that hospitalized two people.
The accidents on the bridge over the Meander Reservoir happened Tuesday after a series of sudden snow squalls engulfed the road, at times leading to blinding conditions.
"It was basically a white-out," said truck driver Keith Smukala of Michigan.
"It was very heavy snow," added truck driver Valeri Bagkai. "It was hard to see more than 20 or 30 feet in front of you."
Lt. Jerad Sutton, head of the patrol's Canfield Post, said there was an initial two-vehicle accident just off the bridge that spawned two other multivehicle accidents.
There was a six-vehicle accident involving three semis, then an 11-vehicle accident involving seven semis.
Sutton said two people were transported to St. Elizabeth Youngstown Hospital with "serious injuries" that are not considered life threatening.
Sutton said speed and the weather were the main factors that caused the pileups.
"The crashes just started to back up," Sutton said.
The crashes also played havoc with local traffic patterns. Because the patrol and the Ohio Department of Transportation closed Interstate 80 at state Route 46, traffic was backed up on Route 46 heading south with vehicles leaving the highway who wanted to get back on Interstate 80 on Mahoning Avenue.
That also led to traffic congestion on Mahoning Avenue west, which continued into Jackson Township for drivers who wanted to access Interstate 76 west via Bailey Road.
Traffic looking to avoid those spots then caused long lines on the state Route 11 south exit ramp on Mahoning.
Sutton said people were driving too fast for the conditions and did not allow themselves enough distance to stop suddenly if they had to, and that led to the other pileups.
Smukala said the squalls came on suddenly. He said there would be just a few flakes in the air and then it would be a blanket of white.
He said he swerved to avoid a semi and his trailer was clipped by another semi, but neither the trailer nor the cab of his truck appeared to be damaged and Smukala said he was fine.
The road was reopened just after 3:30 p.m.
More like this from vindyarchives.com