This month was the seventh-wettest June on record for the area
YOUNGSTOWN
Heat Wave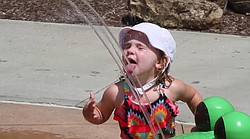 Video
Warm weather has settled on the valley this weekend.
It was a soggy June, the seventh-wettest on record for the Mahoning Valley – and we're finishing the month and starting July with a heat wave.
In June, 6.14 inches of rain fell, according to the National Weather Service, which has local weather data dating to 1897.
The Valley had at least a trace of rain on 18 of the month's 30 days – there's no rain predicted for today – with at least a half-inch falling on six days.
The wettest day of the month was June 1 when 0.94 of an inch of rain fell with June 23 being the second-wettest with 0.83 of an inch of rain.
The National Weather Service records weather data at the Youngstown-Warren Regional Airport in Vienna.
While it seemed as if this was the wettest June in a while, it wasn't. More rain fell just a year ago this month, 6.84 inches, and 9.02 inches was recorded in 2015 – the third-wettest June on record for the area.
The wettest June for the area is 10.66 inches in 1986.
The Valley will end the month with an average temperature close to 69 degrees. It's higher than the 66.4 degrees average temperature for June in the area, but isn't in the top 10 warmest for the Valley.
And we end the month with the hottest day of June with an expected high near 95 degrees.
It's expected to stay in the 90s through at least Thursday. The high temperature for Sunday is also near 95 degrees.
The expected highs for the other days are near 92 Monday, Tuesday and Wednesday, and near 90 Thursday, according to the NWS forecast.
More like this from vindyarchives.com