Trump's energy proposal could derail plans in Lordstown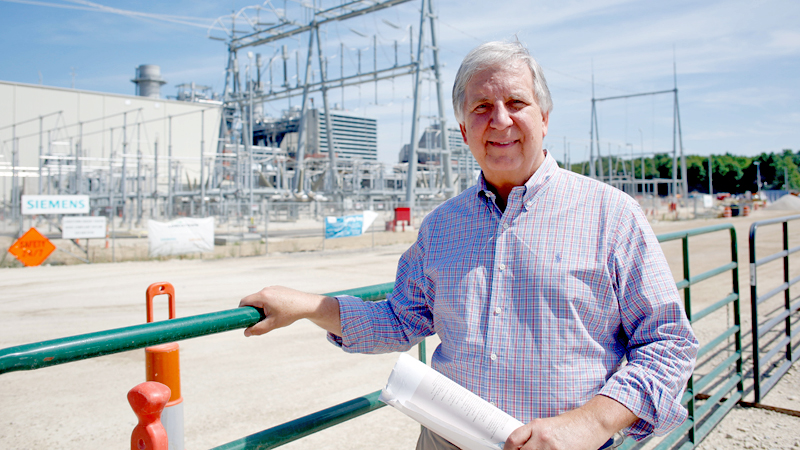 ---
By JORDYN GRZELEWSKI
jgrzelewski@vindy.com
LORDSTOWN
The day after becoming the Republican Party's presumptive presidential nominee in May 2016, Donald Trump made a promise at a campaign event in Charleston, W.Va.
"We're going to put the miners back to work," he said, as thousands of coal miners got to their feet. "We are going to get those mines open."
Watching the speech on television, Bill Siderewicz was bewildered.
"I was like, 'Are you kidding me?'" said Siderewicz, president of Boston-based Clean Energy Future LLC, which operates numerous gas-fired, wholesale electricity generation plants in Ohio and is bringing a $900 million natural-gas power plant to the village.
Lordstown Energy Center, located on a site in the Lordstown Industrial Park, is slated to be up and running next month, and Clean Energy Future has plans to invest a similar amount into building a second plant nearby.
An energy policy proposed by the Trump administration, however, could derail plans for the second Lordstown plant and send companies such as his running from Ohio, Siderewicz said.
Trump recently directed U.S. Secretary of Energy Rick Perry to take steps to keep coal and nuclear plants running, a proposal Siderewicz said has caused consternation among many in the energy industry. The proposed bailout, which came to light May 31 when Bloomberg published a leaked memo from the Department of Energy to the National Security Council, has united a broad swath of interests, including petroleum, renewable energy, wind energy and natural gas groups, in opposition.
Although Siderewicz voted for Trump, he had hoped the president would stay away from the energy industry if elected.
Siderewicz is now sounding the alarm on the potential negative impacts of the policy. He said a bailout of the coal industry would shatter Ohio's competitive energy market, endanger investments in gas-fired plants and cost consumers and businesses billions in higher electricity rates.
"Everyone [who] has an IQ of more than 25 is upset about this," Siderewicz said. "This is so un-American."
DECLINE OF COAL
In 2009, coal fueled 45 percent of the country's electricity production, according to the Institute for Energy Economics and Financial Analysis.
By 2017, that share had dropped to 30 percent.
Attributing the trend to an abundance of cheap natural gas, growth in renewable-energy sources, and little growth in electricity demand, the institute recently reported that coal's market share will continue to shrink.
"In electricity generation – the key market for coal – the industry is increasingly uncompetitive and is losing market share," wrote David Schlissel, IEEFA director of resource planning analysis and lead author on a report titled "U.S. Coal: More Market Erosion Is on the Way."
"Further declines in coal's energy generation market share can be expected through 2018 and beyond," he wrote.
It's a different story for oil and natural gas.
Last week, the U.S. Energy Information Administration forecasted the U.S. could become the world's top oil producer by next year, surpassing Saudi Arabia and Russia for the first time in decades.
In Ohio, natural-gas production has boomed in recent years. The state ranks seventh in the country in terms of natural-gas production, and natural-gas production in Ohio was 21 times greater in 2017 than in 2012, according to the EIA.
"The Utica shale continues to impress. We've seen a 43 percent increase in natural-gas production in the first quarter of this year over the same period in 2017, and this development will continue as the market continues to improve and demand continues to rise," said Dan Alfaro, Energy in Depth spokesman.
"I WANT THIS DONE"
Some coal-industry officials maintain the trend away from coal is a threat to national security.
For about a year, some coal executives who also were significant backers of Trump's campaign have been lobbying the administration to intervene.
Those efforts were detailed in an August 2017 story for which the Associated Press obtained and published letters from Murray Energy Corp. to the Trump administration. Murray, an American coal-mining company, sells coal to FirstEnergy, an Ohio-based utility company.
Chairman, President and CEO Robert E. Murray, a major financial backer of Trump, wrote a letter in August 2017 to a personal aide to the president requesting the administration declare an emergency on the electric power grid.
Murray wrote Trump had directed such an action during a visit to Youngstown last July.
"In Youngstown, Ohio, nine days ago, after my personally speaking with President Trump, he turned to Energy Secretary Rick Perry and said three times, 'I want this done,'" Murray wrote.
Murray went on to note FirstEnergy Solutions, a FirstEnergy subsidiary, being on the "verge of bankruptcy" (the company has since filed for bankruptcy) and wrote the subsequent closure of coal-fired facilities "would be a disaster for President Trump and for our coal miners and employees."
"In my presence in Youngstown on July 25, President Trump told Secretary Perry to invoke Section 202(c) of the Federal Power Act to temporarily declare a 'time out' on this job and electric power system reliability destruction," Murray wrote. "This urgent action, now ordered by President Trump several times, has not occurred."
Months after the Federal Energy Regulatory Commission, composed mostly of Trump appointees, rejected a similar proposal from Perry, Trump called for a bailout for struggling power plants.
According to media reports, White House Press Secretary Sarah Huckabee Sanders said June 1 the president believes "keeping America's energy grid and infrastructure strong and secure protects our national security."
In a statement to The Vindicator, a Murray spokesman said, "Coal-fired electricity generation is essential to ensure low-cost electricity and the reliability, resiliency, and security of America's electric power grid."
The statement said the country "would have experienced massive brownouts and blackouts" last winter if not for electricity generated by coal and nuclear power plants, and claimed retiring these plants and replacing them with natural-gas plants would cost consumers money.
Experts, however, say that no such power-grid issue exists.
NO THREAT
Not a single member of the FERC supported the need for such a bailout on national security grounds in testimony before the Senate Energy and Natural Resources Committee last month.
"There is no immediate calamity or threat," FERC Chairman Kevin McIntyre, a Republican and Trump appointee, told Congress, according to media reports.
Another Republican and Trump appointee on the commission, Robert Powelson, told Congress the proposed bailout could "blow up the markets and result in significant rate increases without any corresponding reliability, resilience or cyber-security benefits."
They were joined in this view by PJM Interconnection, a regional transmission organization that operates in 13 states and the District of Columbia.
"Any federal intervention in the market to order customers to buy electricity from specific power plants would be damaging to the markets and therefore costly to consumers," PJM said in a statement, Politico reported last month. "There is no need for any such drastic action."
Ohio is part of the PJM Interconnection, and it is the system to which Lordstown Energy Center will sell electricity.
The administration's national security rationale strikes some, including Siderewicz, as disingenuous.
"This is about the most ridiculously stupid reason to do this," he said. "That's what happens when you're not truthful. This has nothing to do with national defense. This is about a political payoff."
WHO WILL PAY?
A study commissioned by trade associations that are opposed to a coal bailout estimates it could cost up to $34 billion over two years.
Specifics about which facilities would be subsidized and who would subsidize them have not been spelled out, but the proposal would order grid operators to buy electricity or electric-generation capacity from struggling coal and nuclear plants, according to the Department of Energy memo obtained by Bloomberg.
The study, conducted by the Brattle Group, estimates the subsidies would cost $16.7 billion per year if every coal and nuclear plant in the country were given "uniform support at the level of the average financial shortfall experienced by such plants" and would cost between $9.7 billion and $17.2 billion per year "if only those plants now facing shortfalls were given payments sufficient to cover their operating losses."
While much remains to be seen about the proposed bailout, some sources said the cost would undoubtedly be passed on to consumers.
It's that aspect of the bailout that has caught the attention of elected officials such as state Sen. Sean O'Brien of Bazetta, D-32nd, who noted the failure of a similar proposal in the state Legislature last year.
The Zero Emissions Nuclear Resource program would have increased electricity rates to subsidize two FirstEnergy nuclear power plants in the state, and was opposed at the time by O'Brien, Siderewicz, and the Youngstown/Warren Regional Chamber, among others.
"It didn't get legs in Ohio because the concern is the costs to our constituents and increased costs on subsidized energy sources that are really struggling at this time, especially when we have natural gas and our own supply here in Ohio," O'Brien said.
Of the bailout being proposed by the Trump administration, Guy Coviello, vice president of government affairs for the regional chamber, said, "We favor free-market competition in all industries, including the energy industry. We are opposed to all unbalanced state and or/federal support without a defined return on investment for the taxpayers and consumers.
"Clean Energy Future has been a great corporate citizen in the Mahoning Valley. We appreciate the investment and continued commitment to our economic development."
Siderewicz plans to mobilize a broad coalition to lobby against the proposal. He hopes the Trump administration will be swayed by Ohio's swing-state status.
"What we're doing is fighting this because it disrupts the marketplace that benefits [citizens] in their electric bill," he said.
More like this from vindyarchives.com