Boardman schools celebrate 100 years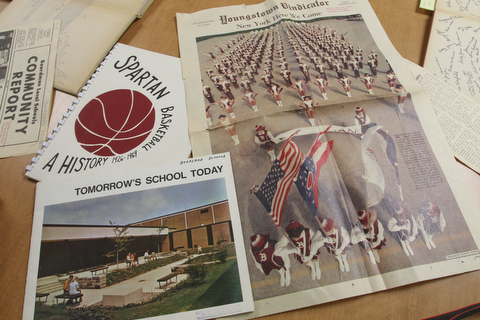 ---
By JORDYN GRZELEWSKI
jgrzelewski@vindy.com
BOARDMAN
Boardman Local Schools
Superintendent Tim Saxton jumped the first time he looked up to see a portrait of his father gazing down at him.
The picture, hanging near Saxton's office, is showcased with other portraits of past superintendents. Tim's father, Larry, served as superintendent from 1996 to 2001.
Saxton shared the story while sitting in Boardman High School's library.
"I'm sitting here talking about my dad looking over my shoulder, and I'm looking at my daughter – she's sitting at that desk," he said, gesturing across the room.
It's an illustration of one family's deep ties to Boardman, but it's not exactly unique. As he spoke, Saxton sat at a table filled with other people whose Boardman schools traditions span multiple generations.
Among them was local businessman Doug Sweeney. His father and grandfather graduated from Boardman, and Sweeney keeps his grandfather's framed diploma hanging in his house. The diploma is from 1919 – one year after Boardman High School graduated its first class.
The school district is in the midst of a year-long celebration of the 100-year anniversary of that first graduating class. The festivities will continue Saturday with "Celebrating Arts," which will honor Boardman's tradition of music, drama and arts education. The free event will run from 6 to 8:30 p.m. at the Boardman Performing Arts Center, and will feature student and alumni art displays, drama acts, and performances by the elementary chorus, wind ensemble, orchestra, and choir (featuring an alumni choir).
The celebration's focus reflects the school district's emphasis on the arts. The arts are among the district's three pillars, along with academics and athletics.
A group of alumni, district employees and current students spoke with The Vindicator about the district's 100-year history, its unique focus on the arts and why families such as theirs build such strong ties to the schools.
MILESTONES
Before 1917, Boardman High School was a two-year program. In 1918, it graduated the first class from its accredited, four-year program.
At that time, all classes were in the building on Market Street that now is Center Intermediate School.
Some people who spoke to The Vindicator recalled stories about their grandparents having to walk or ride horses to school, as the district did not offer busing until the 1930s.
Bill Bieber, a 1984 graduate, recalled hearing stories about his grandfather riding a horse to school. Bieber's family is now in its fourth generation of attending Boardman, with his daughter in second grade.
In 1926, James Minteer started the Boardman Band and Orchestra program, according to information provided by Mark Huberman, a 1969 BHS graduate who later served on the school board for 20 years.
In 1954, a separate BHS orchestra formed.
In 1965, the school put on its first musical: "Annie Get Your Gun," directed by William Dykins. Musicals have been an annual event ever since.
In 1969, the building that today is Boardman High School was built. In 1970, high-school students moved from the Center building to the new building.
In 2000 came one of the arts program's biggest milestones: the opening of the state-of-the-art, 1,600-seat Boardman Performing Arts Center.
"To this day, if you ask me, it's the signature project of the Boardman schools in the last 50 years," Huberman said.
Choir director and 1983 graduate Linda Smrek recalled how, before the addition of the BPAC, students were bused to the Center building for practices because the high school did not have the necessary accommodations.
"Now we have this incredible facility, and that's all thanks to Larry Saxton. That was part of his vision," she said.
In 2006, the music department was selected as a Grammy Signature School. Huberman noted, too, that the orchestra has received Superior ratings since 1973.
Although much has changed over the past century, students, alumni and staff agreed: The arts have remained an integral part of a Boardman education.
SOMETHING FOR EVERYONE
Today, you'll find many students whose last names have been represented in Boardman schools for decades.
So what makes the district a place where graduates want to stay and send their own kids?
"It's the arts," Huberman said.
By putting the arts alongside athletics and academics, there is a place for every student, several people said.
Some, like BHS senior Becca Choleva, take advantage of everything the school has to offer. Choleva participates in cheerleading, band, jazz and wind ensemble – and maintains a 3.79 GPA.
"Being a Spartan ... is just something you can be proud of," she said. "When you hear 'Boardman,' there's a sense of pride."
As a kid, Steven Amstutz wanted to grow up to be like the older Boardman students he watched at sports events.
"It's been my whole life," said the BHS senior. "Everything when I was growing up was about being a Boardman Spartan when I grew up."
That sense of Boardman pride was passed down by his father, who served on the school board and was known as "Mr. Boardman," Steven said.
Before that, Steven's grandmother was one of the first two women elected to serve on the school board in the 1970s.
The other woman to serve with her was the mother of Cheryl Tarantino, who now is president of the Boardman Alumni Association and chairwoman of the "Celebrate 100" committee.
These kinds of ties among members of the Boardman community are common, yet sometimes uncanny. The group that gathered to reflect on Boardman schools' history found countless coincidences and connections, from pictures of their relatives together in newly discovered photos to shared graduation dates.
"We're all interconnected," Tarantino said.
They share fond memories, too. Smrek recalled Dykins, the teacher who directed the school's first musical, writing a play that she performed in her senior year.
Vickie Davis, a 1984 graduate and current school board member, recalled going to school in mobile classrooms parked outside the elementary schools because the district had too many students.
The 100-year celebration has brought to light other community members' memories, as well. One family sent in old photos found in the walls of their house; many others sent in yearbooks. In one yearbook, a 1934 school newspaper was found. With many submissions, letters were attached.
"People are nostalgic. They're wanting to share their story," Tarantino said.
Pondering what makes Boardman special, Saxton noted that small and large schools appeal to students for different reasons – small schools have a family atmosphere, and large schools offer a wide variety of programs. Boardman, he said, does both.
"Kids are not lost in the cracks. They belong here. They're treated like a small, tight-knit family," he said. "You don't find that. You don't get the best of both words – but at Boardman you do."