Mooney gets new scoreboard technology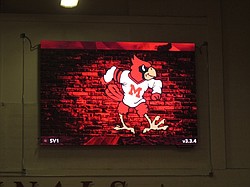 Photo
Neighbors | Zack Shively.ScoreVision installed the Reese Family Scorebards in Cardinal Mooney High School's gymnasium. The school will use the boards to keep score and play videos and advertisements during basketball and volleyball games as well as being in use during pep rallies, assemblies and speaker visits.
By ZACK SHIVELY
Cardinal Mooney High School debuted the new Reese Family Scoreboards technology in their gymnasium at an open house on Jan. 9 and 10 as well as at the boys' basketball game against Warren JFK on Jan. 9.
ScoreVision provided the two jumbotrons, which have been installed on both sides of the court. The new scoreboards will allow their students to learn to work with new digital technologies and will give local businesses and donors a platform to advertise.
"On behalf of all of Cardinal Mooney, I would like to saw that we are thankful for all the businesses and donors who have made this upgrade possible," said Mark Oles, president of the school.
Oles said the scoreboards will not only provide advertisement for businesses and name recognition for donors, but they will also use the jumbotrons for any events in the gymnasium including basketball, volleyball, assemblies and guest speakers.
The board have the dimensions of 14 by 9 feet and has an all LED surface, which makes the screen more durable. If something hits the screen, it may take out only a panel, as opposed to the full screen.
The screens use Apple technology to broadcast and has a Cloud based storage system. Any content from the internet can be broadcasted onto the screen. Amelia McCumbers of ScoreVision said that the students could play movies on the screens for a movie night or a live broadcast. Anything that they can access on their connected iPad can be played on the jumbtrons using AirPlay technology.
Students in the Advanced Computer Applications and Creative Entrepreneurship classes will design content to be played during games on the Reese Family Scoreboards. They will create hype videos to play during pregame and pep rallies to get their students excited for the games. The boards also give the students a chance to make advertisements and commercials to play before games, half time and during time outs.
ScoreVision has operated for two and half years and has brought video scoreboards to schools throughout the country. Their main focus is on high schools, but they have provided jumbotrons for colleges such as Oakland University. Their new boards at Cardinal Mooney marks the third school they have worked with in Ohio.
If donors or businesses are interested in promoting on the scoreboards, they can contact the school at 330-788-5113 or visit their support webpage at http://www.support.cardinalmooney.com.