Visiting judge rules to keep charges and evidence against Ralph Infante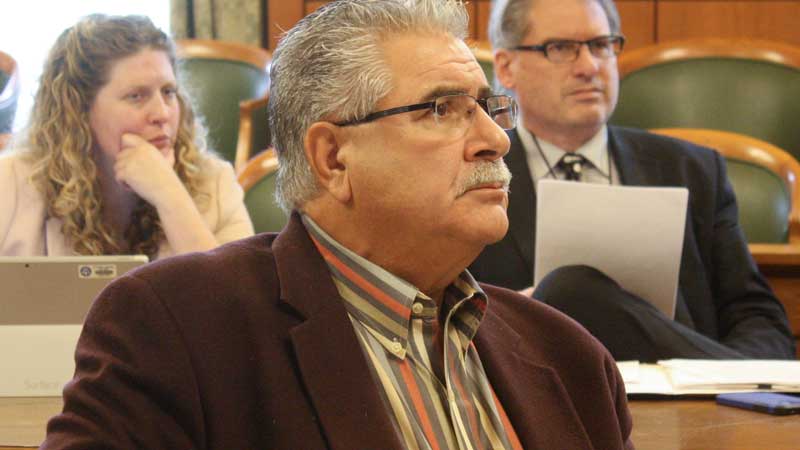 ---
By Ed Runyan
WARREN
The visiting judge in the Ralph Infante public corruption trial has shut down every argument the former Niles mayor's attorney has made for dismissing charges or suppressing evidence in the case.
Furthermore, Judge Patricia Cosgrove, a retired Summit County Common Pleas Court judge, warned defense attorney John Juhasz and attorneys from the Ohio Attorney General's Office they must not further delay the trial date set for April 23.
Judge Cosgrove issued a ruling this week saying Juhasz's argument that the 41 charges Infante faces should be dismissed because of an undue delay is without merit.
"It is undisputed that the [41] counts in the indictment were brought within the applicable statues of limitations," the ruling says. "That [prosecutors] did not learn of [Infante's] alleged criminal activity and begin investigating such activity until 2014 is not a delay that can be [blamed on] the State."
Juhasz sought dismissal of the charges based on some of the charges being so old that bank records have been destroyed and witnesses, such as Infante's father and secretary, have died.
Some charges date back as far as far as 1993, nearly to the beginning of Infante's 24 years as Niles mayor. But about 30 date back no more than six years before they were filed, prosecutors said. Lead prosecutor Daniel Kasaris said the investigation began in fall 2014.
Judge Cosgrove cited a U.S. Supreme Court decision saying improper investigative delay would involve trying to gain a tactical advantage over a defendant by delaying the filing of charges.
But it is fair to delay charges if a prosecutor "refuses to seek indictments until he is completely satisfied that he should prosecute and will be able promptly to establish guilt beyond a reasonable doubt."
The couple of years investigators and prosecutors spent investigating the case and filing charges did not violate Infante's due-process rights "even if his defense might have been somewhat [hampered] by the lapse of time," Judge Cosgrove's ruling says.
The judge also dismissed all Juhasz's requests for suppression of evidence the defense lawyer says was illegally obtained through a search warrant for Infante's home on North Rhodes Avenue in Niles and Infante's business ITAM No. 39 on North State Street in McKinley Heights on Feb. 1, 2016.
Juhasz said the affidavit filed by Detective Michael Yannucci of the Trumbull County Sheriff's Office in support of the search warrant contained in some cases multiple layers of inadmissible hearsay evidence.
But the judge noted much of the information in the affidavit regarding allegations of tampering with evidence, bribery, theft in office and engaging in a pattern of corrupt activity came from a meeting with Christopher Rudy, a veteran investigator for the Ohio Auditor of State's Office with experience in public-corruption cases. Infante also faces gambling charges.
The affidavit contained information gathered by Rudy and agents from the FBI, Ohio Attorney General's Office and Ohio Ethics Commission who used surveillance, interviews and other techniques, the ruling says.
Despite Juhasz's attacks on the credibility of the information in the affidavit, Judge Cosgrove cited case law indicating that "hearsay evidence may serve as a basis for issuance of a warrant so long as there is a substantial basis for crediting the hearsay."
As for evidence seized at the Infante home, the judge said Juhasz failed to identify a single document obtained as a result of an overly broad search warrant.
Furthermore, Infante, 62, owned the home at the time of the search warrant, so the judge found no merit in questions about whether part of the home was off limits during the search because his stepdaughter and her husband were living there at the time.
Infante's wife, Judy Infante, 67, is also named in seven of the charges Ralph Infante faces.