Trump, Brown, Portman rip GM
Bertram de Souza Interview - Lordstown

Video
In this interview, Editor Todd Franko asks Columnist and Editorial Editor Bertram de Souza to discusses the recent events happening in Lordstown.
Bertram de Souza Interview - Lordstown's Future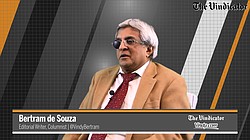 Video
In this interview, Editor Todd Franko asks Columnist and Editorial Editor Bertram de Souza to discuss the history of Youngstown, in light of the events happening in Lordstown.
Politics makes strange bedfellows, as the people of the Mahoning Valley are finding out in the intensifying battle against General Motors, which has announced plans to idle four factories in the U.S., including the Lordstown assembly complex.
Republicans and Democrats have found common cause in attacking GM Chairwoman and CEO Mary Barra because neither side wants to be blamed for ignoring the misery of 14,000 or so management and union autoworkers.
Last week, Republican President Donald Trump joined Ohio's two senators, Democrat Sherrod Brown and Republican Rob Portman, in publicly berating Barra for targeting the three assembly plants and a transmission factory while expanding production facilities in Mexico.
Trump, who has gone after the automaker since Barra's announcement, was interviewed by Fox News on Thursday and said this:
"I don't like what she did. I think it's nasty, but it doesn't really matter because under my leadership from a national standpoint, Ohio is going to replace those jobs like in two minutes. But I don't like that General Motors does that. And they're going down to Mexico to make cars."
The Ohio Democratic Party wasted no time in taking Trump's words and using them as a crudgel.
The party accused Trump of not being worried about the Lordstown facility closing because the 4,000 or so jobs lost would be easily replaced.
Economic pain
Democrats charged that the president was ignoring the very real economic pain and emotional turmoil experienced by workers who are furloughed.
But an objective review of the president's comments leads to the conclusion that the Democratic Party's spin on his remarks is unfair.
Here are other statements from Trump about Barra's decision:
"I think she's making a big mistake going all electric. They've changed the whole model of General Motors. They're going all electric, but all electric is not going to work. It's wonderful to have it as a percentage of your cars, but going into this model that she's doing is a big mistake."
Trump also blasted Barra for not notifying him in advance that car production would end and that the plants would be idled.
"But to tell me a couple of weeks before Christmas that she's going to close in Ohio and Michigan is not acceptable to me."
The president punctuated that statement with this warning to Barra regarding the Lordstown plant and those in Michigan:
"And she's either going to open fast or somebody else is going to go in. But General Motors is not going to be treated well."
For their part, Sens. Brown and Portman, who have forged a close working relationship on issues of job-retention and job-creation in the Valley, sent Barra a letter that posed a number of pertinent questions, including several on the status of the Lordstown complex.
Here's a sampling:
What factors will GM take into consideration in determining whether to allocate another vehicle to Lordstown? Will Lordstown's status as GM's top performing plant for quality according to the J.D. Power 2018 data be taken into consideration?
Brown and Portman set a Dec. 21 – Friday – deadline for Barra to answer.
She must be cringing.