Report details factors that weren't taken for consideration in initial Loraine Lynn case.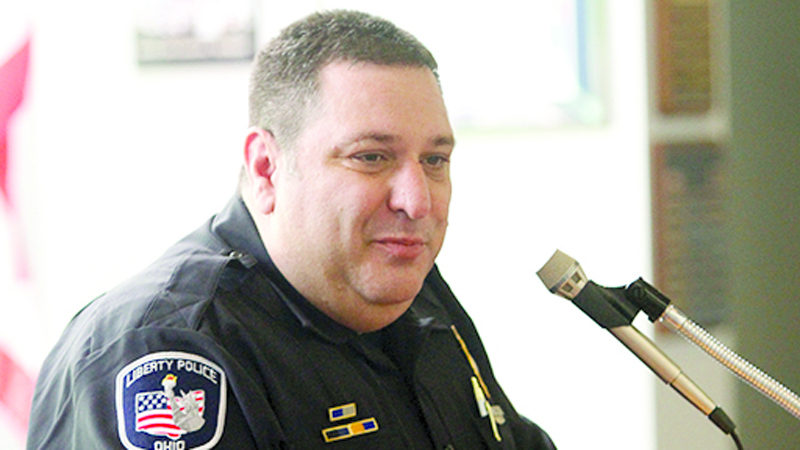 ---
VINDY EXCLUSIVE
LIBERTY
The initial report a private investigation firm sent to Liberty police in June reveals details on factors that may have been overlooked by the lead investigator in the Loraine Lynn death probe.
A draft of the report by Friedrick & Associates – which was not its final report – was obtained by The Vindicator.
Interim police Chief Toby Meloro, a captain at the time, was in charge of the death investigation when Lynn was found face down in her mother's pond Aug. 2, 2017.
Meloro treated the case as an accidental death, and the case was closed that day.
Six months later, Trumbull County Coroner Humphrey Germaniuk ruled it a homicide. Germaniuk has since died.
The report, written by Robert Friedrick, details Meloro's original theory on how Lynn died.
Meloro told Friedrick that Lynn hit a tree branch while driving a tractor which could have knocked her onto the brush hog, even though the brush hog is behind the tractor and she was face down.
Even stranger is the fact that if Lynn had hit a tree branch, it would have been at least 30 feet from the pond, which means she would have traveled several feet without rolling off the tractor's brush hog when it made the turn into the pond, the report explains.
Her sister, Diane Pullin, has said she believes the body was placed on the tractor.
She encourages people to attend the next regular evening trustees meeting at 6:30 p.m. Sept. 17, when she will drive from Florida to address her concerns to the board.
The Friedrick report reveals the family saw a circular bruise on Lynn's neck at funeral-home calling hours.
The internal investigation that concluded Meloro broke three departmental policies during the Lynn death probe noted Meloro did not follow up on security footage or properly check Lynn's car for evidence.
The private investigator reiterated the family's original concern that suspicious security footage should have been taken by Meloro as evidence.
The report confirmed security footage shows Lynn's car pulling back into her mother's driveway a half-hour after she left, and parking out of sight of security cameras.
"Review of the video would plainly suggest foul play," Friedrick wrote, noting Meloro told him he never received a copy of the video.
The report states Meloro had reviewed the video for two hours until there was a power outage. Then, Meloro left to attend a family wedding out of state.
Meloro asked Pullin to make a copy of the video and send it to him. But Pullin told The Vindicator on Friday she called about the video later and Meloro told her he didn't need it – as there was nothing important on it.
As for the Lynn's Nissan Pathfinder, the report details that Lynn's daughter, Samantha, begged Meloro to process it.
After Meloro claimed he "black-lighted" the car to look for blood, the report said he told Samantha Lynn to pick the car up or be subject to a storage fee.
The family still tried to preserve the car for evidence.
No police photos were taken of the car, and nothing in the car – including a bag of clothes – was taken by Meloro for further investigation, the report said.
No interviews were completed the day Lynn's body was found, despite four people being on the scene.
Before her body was found, "calls of anguish were made by Lori's daughters suggesting foul play" to Liberty dispatchers, the report said. Had the interviews been conducted, a homicide investigation may have been considered sooner, it noted.
If police suspected foul play based on the interviews, the car may have been retained longer as well, the Friedrick report said.
"Based on my experience, if the interviews had been conducted and the video was reviewed, there would have been ample information gathered to suggest foul play," the report concludes.
Additional factors are detailed in the report that weren't investigated originally. The Vindicator elected, however, to not publish these to safeguard the integrity of the ongoing investigation.
The report said Lynn's family lost trust in Liberty police after the initial investigation, but eventually agreed to allow Detective Sgt. Ray Buhala and Special Agent Arvin Clar of the Ohio Bureau of Criminal Investigation to take over the probe.
Pullin said she has more trust in Buhala and Clar.
She's unhappy with Meloro's appointment as Liberty's interim police chief.
"I believe Toby should be punished and not rewarded for doing a bad job," she said.
She also took aim at Trustee Arnie Clebone, board chairman, for not disciplining Meloro. Both men "should resign or be removed out of office," she said.
Meloro has said there are two sides to the story but he won't comment until the homicide investigation is complete.
Clebone said if he thought Meloro did something to warrant discipline then he would change his mind about making him permanent chief, but he believes Meloro has a solid 25-year track record and wants to focus on the positives.
"We have a lot of confidence in Toby Meloro. He's doing a great job," he said.
Clebone added he doesn't think it should have fallen to the trustees to decide to impose discipline after the internal investigation.
"Toby will do what he can to make sure justice is served. If we thought some action on our part would help solve a case, we would do it," he said.