Flash floods wreak havoc in Boardman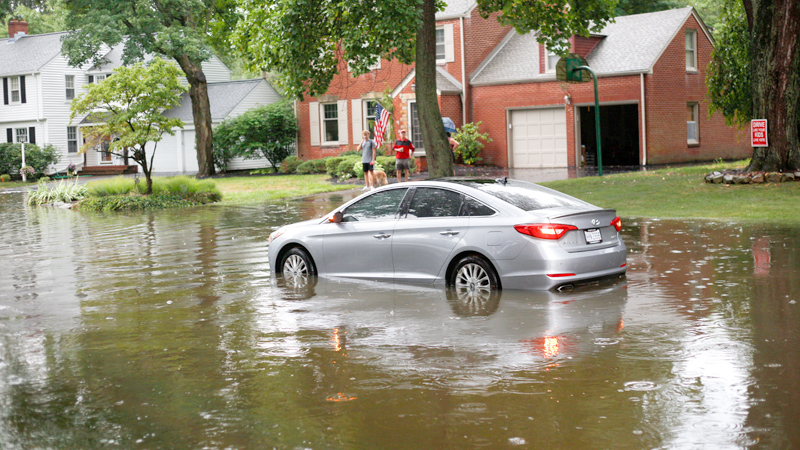 ---
By AMANDA TONOLI
atonoli@vindy.com
BOARDMAN
Waist-high water wreaked havoc at Boulevard Club Apartments on West Boulevard on Friday night when thunderstorms brought flash-flood warnings throughout southern Mahoning County.
Tenants were worried about a gas leak inside the building, which ended up being from one of the trapped and flooded vehicles in the parking lot. Safety personnel were at the scene for several hours.
Julia James, who lives there, said she heard a loud knock on her door with orders to evacuate the building because of the gas smell.
Soon after, tenants were released to go back into the building once safety personnel determined the odor was coming from one of the flooded vehicles.
Personnel worked to unclog several drains that got backed up with leaves.
"I've never seen anything like this," said Dayshaun Liranzo, another tenant.
The flooded parking lot behind the buildings caused dumpsters to float from one end to the other.
"The water was up to my waist," James said about what had receded to knee-deep water. "Believe it or not, it's gone down tremendously."
Township officials asked drivers to avoid the area of Market Street and Shields Road due to flooding there, where a two-car, head-on crash had also occurred.
On South Avenue, a tow truck and an SUV worked to pull cars from a flooded area just south of Regal Cinema South.
A police department spokeswoman said the whole township was experiencing floods and advised everyone to stay home. Township
Police Chief Todd Werth issued this statement:
"Several roads are impassable. Never attempt to drive into or through a flooded area. We are requesting that everyone refrain from any unnecessary travel till approximately 9:30 p.m. tonight. Due to the weather, our Dispatch center is experiencing high call volume. If possible, please contact us for emergency incidents only until that time as well. Please forward this message, and check on any neighbors or family members as appropriate."
Struthers police also reported several neighborhoods experiencing high water.
More like this from vindyarchives.com