Labra Brothers are working in harmony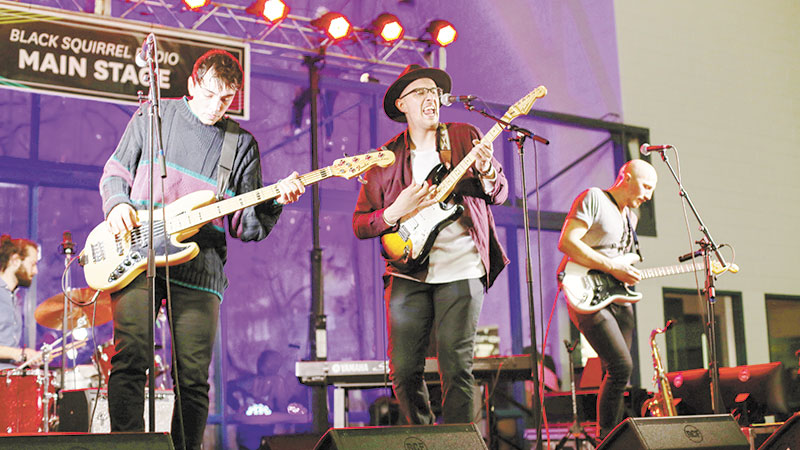 ---
By GUY D'ASTOLFO
YOUNGSTOWN
The Labra Brothers' musicianship is so tight and well-defined, you'd think they've been playing together all their lives.
Of course, they have. The three brothers come from a musical family – their father was a musician who passed down their heritage by teaching them Mexican folk songs as children – and most family gatherings included a jam session.
"We'd be sitting around [after a meal] talking, and sooner or later someone would say 'where's the guitars?'," said Adrian, the oldest of the three brothers, which also include Cristian and David.
The three grew up in Canfield, where Adrian was the first to pick up a guitar.
"I learned how to play at a very young age, probably 5 or 6," he said during a recent interview. "Cristian had been listening to me play, so he picked up the bass and it wasn't long before he could play along with me and do vocal harmonies."
There was still something missing.
"We told David that he needed to learn to play the saxophone," said Adrian. "We thought we were missing a horn and so we put it on him."
"No pressure!," chimed in David.
"He picked it up and has been playing with us for years," said Adrian.
Singing came naturally to all three brothers, and so did harmonizing.
"We've been singing so long, that these guys were able to jump right in and be able to naturally recognize the third harmony part."
The band's intrinsic cohesion is the first thing you notice during a performance. Credit goes not only to nature, but also a strong desire to identify and correct flaws.
"We take criticism so well from each other," said Cristian.
The Labra Brothers have been performing together as an act for about three years. They have added musicians to the band – Danny Svenson on keyboards, Bob Young on drums and Matt Hayes on auxiliary percussion – that complete the sound and also add flair.
Their songs are rapid-paced jams that blend in Latin influences, funk guitars and a lot of blues.
David sees it as a cross between funk, Latin-flavor and smoother R&B.
"We draw from a lot of influences, a lot of different genres," added Cristian. "We listened to a lot of Creedence Clearwater Revival, Santana, Bill Withers, the Beatles ..."
Those influences go back to the early days.
"Our dad exposed us to everything," noted Adrian. "A lot of blues, including Stevie Ray Vaughan and B.B. King."
The Labra Brothers stay busy with a performance schedule that will take them to Cleveland and Columbus in coming weeks.
Up next is a Friday show at the Rialto Theatre in Akron with the Joy Ike Trio.
Then, on Saturday, the Labra Brothers will return to Federal Frenzy in downtown Youngstown, where they will play on the smaller outdoor stage at 3 p.m.
The act is also working on its first full-length album, which will be released in the fall. It will include three of the songs on the band's debut EP, plus five other songs that they've been playing at shows. All are originals.
To raise funds for the record, the Labra Brothers have started a page on crowd-funding site indiegogo.com.
More like this from vindyarchives.com