Nicks' performance was as good as gold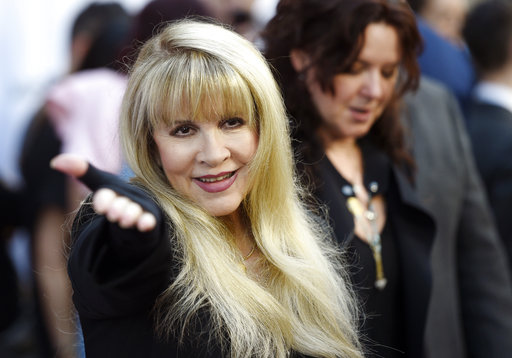 ---
By GUY D'ASTOLFO
dastolfo@vindy.com
YOUNGSTOWN
Stevie Nicks recently said she doubts Fleetwood Mac will ever make another album.
"Why spend all that time and effort on an album that will never sell?," was how she put it.
Nicks is no doubt right, and therefore she is content to just tour — which gives her a second chance to delve into her sizable body of solo work.
This includes her most recent album, "24 Karat Gold," which was released in 2014 but was largely overlooked. The album is a collection of songs she wrote mainly in the '70s and '80s but had never recorded because she was dissatisfied with them or the timing wasn't right in her career.
But a collection of songs Nicks deemed unworthy when she wrote them can still turn out to be one of the year's best albums.
At her concert at Covelli Centre Friday night, the rock queen cherrypicked songs from "24 Karat Gold" and her other solo albums, including "The Wild Heart" and "Bella Donna," as well as a few Fleetwood Mac classics that she had long ago put her signature on.
As she has done throughout her current tour, which began almost a year ago, Nicks also told the background stories behind many of the songs.
It was fascinating behind-the-scenes history for devoted fans, even if it tested the patience of the casual ones.
For example, "Stop Dragging My Heart Around," her 1981 duet with Tom Petty, was an emergency measure to boost sales of "Bella Donna," which didn't produce a radio single. Nicks also credited her follow-up album, "The Wild Heart," with cementing her standing as a solo artist who could stand apart from the Fleetwood Mac umbrella.
Tom Petty's name actually came up a few times during the show, which reminded me that — now that I had seen Nicks — he is one of the few greats remaining on my concert bucket list.
As for Nicks' performance, it was as good as gold. At age 69, she looked great and her otherworldly mid-range voice was never in doubt. At one point, she lamented the lonely life of being a girl in a touring rock band, but it's clear she still loves the life as much as ever.
Nicks was mystical and mysterious in performance, and charming and talkative between songs.
After opening with "Gold and Braid," which rocks like an old Michael Stanley Band song, she went deep for songs from her long career in a set that went well over two hours.
Ever the gypsy, Nicks wrapped herself in a chilling white fur for "Moonlight (A Vampire's Dream)," which she wrote about the "Twilight" movie saga. The song was spellbinding from the opening piano segment.
The gurgling synthesizer intro to "Stand Back" brought the '80s rushing back. Afterward, Nicks recounted in detail the now well-known story of how the late Prince helped her perfect the tune, which she wrote as an answer to his "Little Red Corvette." Prince's influence is still unmistakable on it.
Nicks gave "Gold Dust Woman" the psychedelic treatment, electrifying the big-screen backdrop with her effects-enhanced gyrations.
"Edge of Seventeen" was announced by a fierce guitar intro by Waddy Wachtel, who reeled off scorching solos all night.
For her encore, Nicks fittingly went back to her Fleetwood Mac days, ending a golden night with the massive hits "Rhiannon" and "Landslide."