Another appeal in the fight against HB 70
RELATED: Youngstown schools administrative offices begin move out of West Wood Street
YOUNGSTOWN
HB 70 injunction denied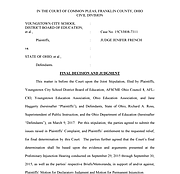 Document
A court has denied Youngstown Board of Education's final appeal for a permanent injunction in its fight against House Bill 70.
The Youngstown Board of Education will appeal a court's denial of a permanent injunction in its fight against House Bill 70, said Brenda Kimble, board president.
"We're not giving up," she said. "We have to fight for public education and our children in our district."
HB 70, commonly referred to as the Youngstown Plan, was signed into law by Gov. John Kasich in July 2015. It enabled a state-appointed academic distress commission to hire CEO Krish Mohip to lead the district. The bill gives Mohip complete operational, managerial and instructional control of the district.
The injunction, also filed in 2015, was aimed at stopping HB 70 from taking place because it would do irreparable damage, according to Franklin County Board of Health v. Paxson legal action.
Other parties in the original injunction include the Ohio Education Association, Youngstown Education Association, city schools teacher Jane Haggerty, AFSCME Ohio Council 8 and the AFL-CIO.
Franklin County Common Pleas Court denied the appeal Wednesday, citing reasons including a failure on the school board's part to show harm to third parties if an injunction isn't granted and a public interest not being served by an injunction, according to the decision.
The new appeal will be filed in the 10th District Court of Appeals in Columbus.
Kimble cast the blame for the decision on Judge Jenifer French.
"French gave the same answer in the past," she said. "It's just so unfair because if you read her answer, it's like we had no representation there and a decision was made without us being present."
Kasich also tapped Judge French to join the Ohio Supreme Court in 2012, Kimble added.
Mohip, who refers to the elected school board as an advisory board, was happy to hear about Judge French's decision.
"I'm pleased that the judge denied the injunction and that there won't be a disruption in the implementation of the district's strategic plan," Mohip said. "We've made some great progress, and we will continue moving forward and doing what's best for our children."
Still, Kimble said the board won't abandon its responsibility to the public.
"At the end of the day, we do still have some powers, and we are going to be the watchdog for this community and its taxpayers, and we will let them know every time we find something that is evidence of wrongdoing," she said.
More like this from vindyarchives.com