Pep rally celebrates 100 years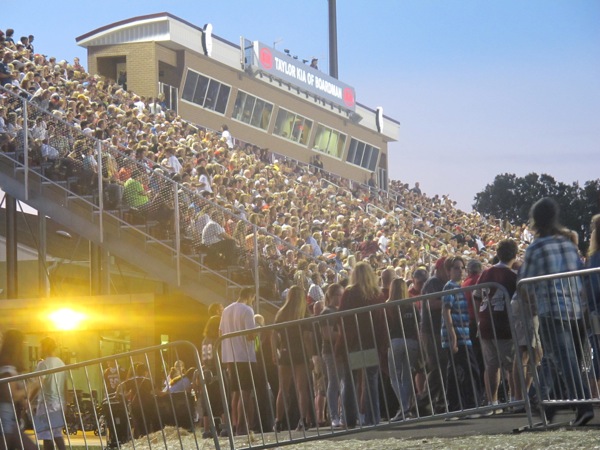 ---
by ZACK SHIVELY
Boardman High School threw a pep rally on Sept. 22 to commemorate their athletic program during the school's centennial school year.
The school volunteers began letting students and alumni in at 5 p.m., and the celebration began 45 minutes later. They filled up the high school gymnasium and then walked over to Spartan Stadium for a parade before the school's rivalry game against Cardinal Mooney.
Cheryl Tarantino, the president of Boardman alumni, organized the event. She made sure that the parade represented all of Boardman schools and former athletic alumni. All students, band, athletics and alumni totaled more than 1,000 participants who marched in the parade.
The pep rally included a speech and meet-and-greet with former Browns quarterback and Spartan alumnus, Bernie Kosar. Superintendent Timothy Saxton said that he contacted Kosar and he wanted to be a part of the celebration.
Volunteers handed out special shirts honoring the school's 100 years of athletics, and other worked the Spartan gift shop. The Spartan mascot greeted attendees as they walked into the high school.
The Spartan marching band opened the pep rally with their fight song. During the rally, Saxton introduced the band and some alumni present. Kosar and football coach Joe Ignazio also talked at the event. Kosar spoke about his love and pride in Spartan athletics and academics.
Ignazio fired up the crowd for the game against their rivals.
The rally had multiple performances by their marching band and cheerleaders. Saxton introduced the alumni band, who then performed. The cheerleaders chanted one of their cheers with a call-and-response for the crowd. The band ended the pep rally with songs by Van Halen from their halftime performances and the school's "Alma Mater."
The band then lined up between the school and football stadium and led the parade into the stadium.
The fans, students and alumni watched the game after the parade. Kosar signed autographs, chatted with other alumni and sold his new book "Learning to Scramble" for over an hour before kickoff.
The pep rally is the second of four events celebrating Boardman school's centennial. The school hosted a "Family" event in June and will have an "Arts and Music" celebration in January and an "Academic" event in May.