Storm damage hits Boardman
Storm Damage in Boardman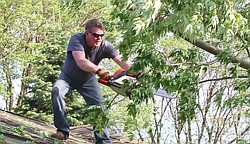 Video
A strong storm Sunday downed trees and power lines and ripped the roof form a local store.
BOARDMAN
Nichole Lester and her daughter, Madison, 13, and son, Elliott, 6, were standing at the front door of their Woodview Avenue home Sunday afternoon waiting for the storm to subside so they could take Elliott to baseball practice.
Then, suddenly, a large tree crashed against the front of their house, causing heavy damage.
"No one was hurt, but we are shook up," Rex Lester said of his family, including Abram, 11, all of whom were home when the storm hit.
"I was asleep during the storm, but when the tree hit, I felt the house move," Rex said.
The National Weather Service in Cleveland reported that radar indicates the storm most likely was a microburst, which is a straight-line wind, as opposed to a tornado, which swirls.
Meteorologist Candace Monacelli of 21 WFMJ-TV, The Vindicator's broadcast partner, described a microburst as a fast-moving descending column of air that spreads out horizontally when it hits the ground. She said Sunday's storm was a line of thunderstorms that moved through the area starting about 4 p.m.
It left trees and power lines down all over the township, and at one point, thousands without power, according to FirstEnergy's outage map.
At 4 p.m., an estimated 3,400 customers were without electricity in Mahoning County; by 5 p.m., the number had dropped to 2,088, and by 10 p.m., to 1,106.
Particularly hard hit by the storm was an area around U.S. Route 224 and Southern Boulevard, where several roofs were damaged, including that of the Firestone Complete Auto Care store at Southern Park Mall; Ambiance, The Store For Lovers at 114 Boardman-Poland Road; and an Ohio Edison maintenance building on Southern Boulevard.
The Home Depot, 7001 Southern Blvd., did not appear to have exterior damage to its building, but about 10 enclosed and open utility trailers parked at the north end of the business property were damaged when they were picked up by the wind and flung across an entrance/exit road and down a hill to an adjacent plaza.
Casie Mayle, Ambiance manager, said none of her employees was injured – a circumstance that seemed to be the case around the area. Despite the heavy damage, no injuries were reported.
Monacelli said spotty showers and storms were possible late Sunday or early today and that a cold front should move through the area this afternoon.
"We are at the low end for severe weather, so people should continue to pay attention to the weather. There could still be thunderstorms and gusty winds," she said.
Though April ended with a damaging storm, overall it was the third-warmest April on record for Youngstown, Monacelli said.