Youngstown Chapter of The Links hosts Black Diamond brunch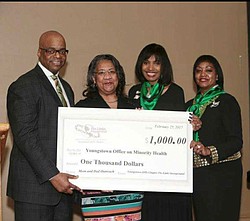 Photo
Above, Dr. Rodney E. Hill, left, honorary event chairman, presented a $1,000 donation to Leigh Greene of the Youngstown Office on Minority Health, to aid in reducing the infant mortality rate in Youngstown. Also presenting the check are Ruthie King, brunch chairman, and Marge Staples, The Links Inc. chapter president. Black Diamond recipients for 2017 are pictured below. SPECIAL TO THE VINDICATOR
Staff report
BOARDMAN
An estimated 500 guests attended the Black Diamond Leadership Brunch on Feb. 25 at Antone's Banquet Center. The brunch celebrates the achievements of local African-American men, and is hosted by the Youngstown Chapter of The Links Inc.
This year's honorees represented a variety of fields including education, entrepreneurship, medical research, religion, finance, music and youth service.
Bishop Emmitt Nevels Sr. received The Black Diamond Legacy Award, which is a biennial recognition of achievement and community contribution.
A portion of the proceeds from the brunch will go to raising awareness of Ohio infant mortality rates, which are among the highest in the nation. Dr. Rodney E. Hill, an obstetrician/gynecologist, was the honorary event chairman and has served as a medical expert on the topic for the Ohio Commission on Minority Health.
A $1,000 donation was presented to Leigh Greene, executive director of the Youngstown Office on Minority Health, to encourage engagement of fathers of infants in an effort to reduce the mortality rate.
Black Diamond honorees for 2017, in alphabetical order, are Robert Allen, Richard W. Atkinson, Roy Austin, Toussaint E. Blake, Clarence Boles, Isaac Boyd, Shamar Brooks, Gregory Brown, Jamael Tito Brown, Landon A. Brown II, Jonathan Bentley, William Guy Burney, Dr. Robert L. Collins, Ira Cross Jr., Devon Culver, Richard Downing, Andre Elliott, Jay Fletcher, Jerrald Fordham, Tazwell Franklin, George Freeman Jr., Hugh Frost, Artis Gillam Sr., Steven Golden Sr., Jerome Harrell, Steven Harvey, Kelan Haynes, Artis Henderson, Jon Howell, David Hood, Jimmy Hughes, Dr. Derrick O. Jackson, Dr. Julius Kato, Marqus Koranteng, Derrick McDowell, Dr. Benjamin L. McGee, Sean T. McKinney, Dr. Mike McNair, Jimma McWilson, Joe Moss II, Wasilwa Mwonyonyi, Jaron B.D. Oates, Julius Oliver, Vince Shivers, Daniel Smith III, Matthew Snipes, Delmas E. Stubbs, Jerry Sutton, Don M. Terrell, Deryck Toles, Jordan I. Trowers, John Manuel Vasquez II, Joshua V. Vinson and James Troy Woods.
More like this from vindyarchives.com