National Weather Services forecasts snow for Valley through Friday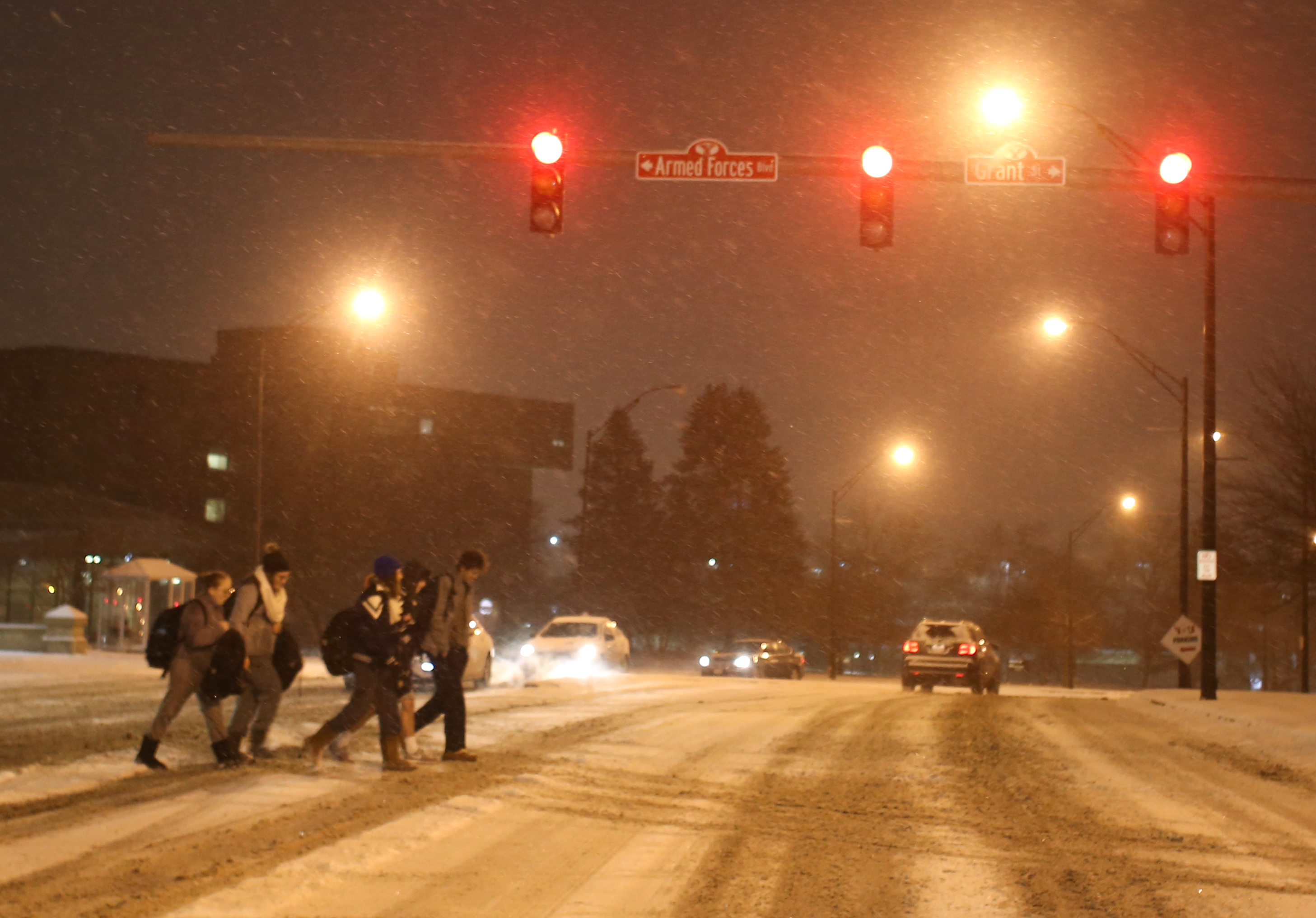 ---
Staff report
YOUNGSTOWN
You are waking up to real winter.
The National Weather Service was expecting 4 to 7 inches of snow to be on the ground for this morning's commute in the Mahoning Valley.
A winter weather advisory is in effect today until 7 a.m. for Columbiana and Mercer counties and a winter storm warning until 1 p.m. for Mahoning and Trumbull counties.
The snowfall from Wednesday and overnight won't be matched over the next couple of days.
There's a chance of snow before 7 a.m. today as well as after 1 p.m., with an accumulation of less than a half-inch possible.
The high temperature today is expected to be near 25 degrees, with a low tonight around 12 degrees.
On Friday, snow showers are likely after 2 p.m., with an accumulation of up to 1 inch expected. The high is predicted by the weather service to be near 27 degrees, with a low at night around 19.
Jared Pekar, sales manager for Do-Cut Sales & Service in Boardman, said the weather has kept the locally owned business busy selling snowblowers.
"[Tuesday] is when we saw the increase starting," he said.
The service center at Do-Cut also has been busy for the 70-year-old business. "Every year we have seen an increase with snowblower sales and with service," he said.
Youngstown had 10 trucks out overnight and throughout today, said Charles Shasho, the city's deputy director of public works.
"We'll concentrate on the main roads," he said. "Sometimes that takes time because the snow falls quickly, and we have to go back to the main roads more than once. We have to get to the main roads first so those on the secondary roads should be patient."
Mahoning County Engineer Pat Ginnetti cautioned drivers to give themselves extra time on their morning commutes.
"A lot of people are driving the normal speed they would if the roads are dry," he said. "We have a tendency to forget how to drive in the snow the first couple times of the year."
He advised drivers that overpasses will ice up first, and intersections may be slick.
Ginnetti expected crews to be out late Wednesday and about 2 to 3 this morning. "It's going to be a long day for the crews, but we're going to stay on top of it," Ginnetti said.
All 20 crews were out at 5 a.m. Wednesday to treat icy spots, he said.
The Ohio State Highway Patrol's Warren and Canfield Posts reported several vehicle slide-offs Wednesday night, but there were no serious injuries.
Boardman Township Road Superintendent Marilyn Kenner said her department is ready for the snowfall.
The township has eight large plow trucks and five smaller trucks for cul-de-sacs. Road department crews were prepared Wednesday to put a salt/slag mixture down on the roads as soon as the snow started.
Poland Township Administrator Jim Scharville said the township has five large plow trucks and one smaller one, plus back-up trucks.
Scharville said the township's salt bins were full and the road treatment had been mixed. The township this week hired another snow-plow driver, bringing the crew up to full staffing.
"The guys are ready to go," he said.
Canfield Township Administrator Keith Rogers said plowing has been good so far.
"Our guys are keeping up with what's coming down, and we've got plenty of salt in the dome," he said. The township's staff of full-time and seasonal employees are periodically checking for snow drift and trouble spots on the roads.
"Come out and drive any of the township's roads," he said. "You'll think you're in Arizona."
Rogers cautioned drivers to put in extra care while driving this winter. "Just slow down and give yourself ample time to stop," Rogers said.
Austintown Township Administrator Mike Dockry said he's pleased with the condition of the roads there so far.
"That little bit of sun helped with the salt on the ground to melt them – dry them up a little bit," he said.
Plow drivers are working shifts of 7 a.m. to 3 p.m., clearing and salting the roads. They were called out the past two nights at 3 a.m. to prepare for the snow.
Between shifts, the road foreman is on call and will send the plows out if police report the roads are slick.
Nunzio DiVieste, a supervisor for Warren Operations Department, said plow drivers have plowed and treated the city's streets the past few days to handle 2 to 3 inches of snow that has fallen, but the real test will be around 7 a.m. today when people are coming into Warren after the bigger snowfall expected overnight.
"I imagine there will be some delays or cancellations, especially if the snow continues into 6 a.m. or 7 a.m.," DiVieste said.
The weather caused some cancellations Wednesday. Youngstown schools cancelled afterschool programs, including sports for kindergarten through eighth-grade students and programs for Youngstown Early College. And Youngstown, Warren and other districts cancelled classes today.
But Jerry Lambert, Girard's director of public services, said he doesn't anticipate the snowstorm being too dangerous.
"Usually we prepare for snow storms by having our trucks filled with salt and equipped with the plow so it's ready to go out on the road," he said.
More like this from vindyarchives.com