YSU offense looks sharp in scrimmage
YSU Scrimage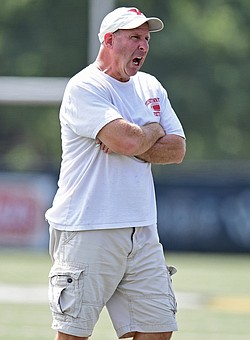 Gallery
Alessi, McCaster, Mays all run for TDs
By Brian Dzenis
YOUNGSTOWN
Things are beginning to look and sound like regular-season football at Youngstown State.
Referees, headsets and special teams were added to the mix on Saturday during the team's second and final scrimmage of the summer.
The Penguins' offense was able to score by air and ground and its defensive counterparts collected a couple sacks and a turnover.
Running back Joe Alessi opened the scoring with a 55-yard touchdown run for the second-team offense.
"I think there was a huge jump on the offensive side of the ball, We came out with a lot more juice this week," tight end Chris Durkin said. "We executed plays when we needed to make plays."
The first-team offense also made some plays of its own. Tevin McCaster led all backs in carries with 12 for 64 yards. The highlight was his 10-yard touchdown run when he ran in to a pile of bodies and was brought to a sitting position on top of an opposing player. Using his left arm, he steadied himself, regained his feet made his way to the end zone. Senior wideout Damoun Patterson pulled in a 20-yard pass at the end of a fade route and kept a foot down for a TD.
"As a group, we're stepping up to the plate," Patterson said of himself and his fellow wideouts. "I feel like we're the more experienced group and we have a lot on our shoulders."
Nathan Mays scored on the ground for the second straight scrimmage, with Saturday's TD coming on a 1-yard rush.
Defensively, the Penguins' defensive ends got to the quarterback twice with Florida transfer Justus Reed getting a sack with the first team and Ma'lik Richmond getting one with the second team. Richmond also worked a series with the first-teamers late in the scrimmage. The top defensive ends still appear to be Fazson Chapman and Johnson Louigene. Chapman has also emerged as a vocal leader for the defense.
"I'm just having fun out there with my teammates," he said. "That's the player I've always been and I think the team feeds off my energy."
Safety Billy Nicoe Hurst picked off Hunter Wells as the Penguins tried to execute a two-minute drill near the end of the scrimmage.
GET WELL SOON
Head coach Bo Pelini said he spoke with one of his former players, Derek Rivers, on Friday. Rivers, who was the New England Patriots' top pick in the 2017 draft, injured his knee in training camp this week. ESPN reported he is seeking a second opinion, but looks to be out for the season with a torn ACL and a sprained LCL.
"It's unfortunate, but the thing about Derek is that he's strong mentally and he'll keep a good attitude and he'll attack the rehab," Pelini said. "It's an unfortunate part of sports. You have an injury and he'll approach it the right way and he'll come back 100 percent."
Rivers is the Penguins' all-time leader in sacks with 41. Chapman said he still keeps in touch with his former teammates.
"He would ask me how camp is going and I would ask him the same thing," Champman said. "The relationship is pretty good between us."
FINDING A RETURNER
While a lot of competitions in camp appear to be nearing their end, the one that remains wide open is the job of returning punts and kicks. On Saturday, Warren JFK graduate Jacob Coates returned a couple punts as did fellow freshman Christian Turner. In a practice earlier this week, senior receiver Lasander Washington — who's also a sprinter on the track team — has worked as a returner. The only experienced players in that area from last year are Alvin Bailey and Alessi.
"We're looking at a number of guys and we'll look closer at that next week," Pelini said. "We have to hone that down and make some decisions."
SOLAR ECLIPSE
YSU's athletic schedule is sparse during Monday's solar eclipse. The only event that overlaps it is the women's soccer team's home opener against St. Bonaventure at 3 p.m. and the game is happening as scheduled, athletic department spokesman Trevor Parks said.
The eclipse — a rare event where the moon moves in front of the sun to cast a nation-wide shadow — is expected to pass through northeast Ohio from 1:06 p.m. to 3:51 p.m. Looking directly at it while it's happening without special glasses can cause permanent damage to the eyes.
Pelini didn't seem interested in seeing it.
"My daughter probably knows all about that," he said.
More like this from vindyarchives.com