YSU closes out spring practice with scrimmage
YSU FOOTBALL SCRIMMAGE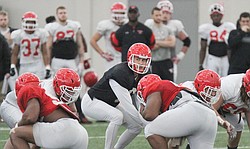 Gallery
YSU Spring football ended with a scrimmage
Bo Pelini On YSU Spring Football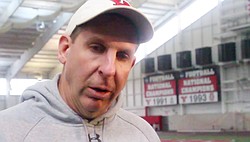 Video
Bo Pelini On YSU Spring Football
YSU ALVIN BAILEY

Video
YSU wide receiver Alvin Bailey talks about spring football and the team's prospects for this fall.
By Charles grove
youngstown
It wasn't exactly the spring game initially scheduled, but the Youngstown State football team scrimmaged Friday at the WATTS in front of about 100 fans for their final spring practice.
During the roughly 90-minute scrimmage, both the offense and defense showed their strengths with the offense looking slightly farther along, mostly due to returning talent.
Penguins head coach Bo Pelini said office work now comes into play, with coaches evaluating everyone and if necessary, new players will come in and get their shots, including the incoming freshman class.
"We'll ID areas we need to get better at and areas that we're pretty comfortable with," Pelini said. "We'll probably still add a few pieces to our football team before the summer is out and obviously we have a nice incoming class coming in."
One of those areas that could see fresh faces come fall camp is the secondary. Pelini said he thought his safeties played well and hinted at newer guys being asked to step up elsewhere.
"I thought our nickels, [Avery] Larkin and D.J. Thomas got better," Pelini said. "I think you'll see some more faces there when we get into the fall especially. When we get healthy we'll be fine in the secondary."
Over the spring Pelini said he thought a few guys in particular stood out, mostly those with experience.
"I thought Hunter [Wells] had a good spring," Pelini said. "Up front defensively our two guys Fazson [Chapman] and Johnson [Louigene] had good springs — Lee Wright, too.
"A number of guys took advantage of spring ball and the reps they got and there are guys that didn't take advantage and struggled and showed they're not ready to play."
YSU's passing attack looked strong at times on Friday. Wells hit Solomon Warfield for a long touchdown pass and when receivers weren't simply running up the field, they were plenty physical with the defensive backs and able to secure passes along the sidelines. Tight ends Kevin Rader and Shane Kuhn (who flattened a defensive back midway through the scrimmage) also didn't miss a beat.
"I think the wide receivers will be a big threat and a big problem for other teams," wide receiver Alvin Bailey said. "[Momentum from last season] definitely carried over into camp. Guys saw how far we can go and what we can actually do. [We'll have] that chip on our shoulder.
"Going to Frisco and losing, I don't think anyone wants to go back and experience that, so every single day we're going to work hard just to get back there and change the outcome this time."
Wright, a linebacker, said he's planning on stepping into more of a leadership role in his final season.
"I feel like we don't have a legit leader right now," Wright said. "We have a few people like me Fazson and even a younger guy like Armand Dellovade. We just need one legit leader and I think I'm going to try to take that role this year."
Wright said that role will involve more study sessions with the younger members of the defense.
"We just need to sit down with the younger guys and go through the playbook," Wright said. "The younger guys coming in are going to to have to take a bigger step because they'll have to be a big role on this defense."
More like this from vindyarchives.com