Tangier pizza bar offers BURGERS A'PLENTY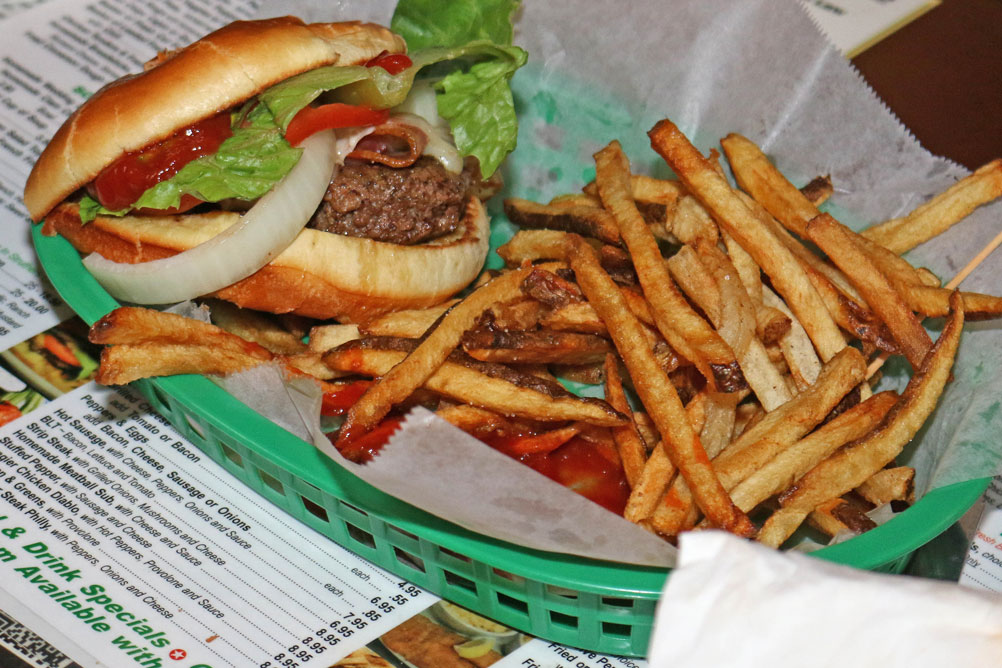 ---
IF you go
Where: Tangier Bar
Address: 880 Youngstown-Poland Road, Struthers
Phone: 234-855-0847
Hours: Sunday, 11 a.m. to 11:30 p.m.; and Monday through Saturday, 11 a.m. to 2:30 a.m.
Menu: 7 burgers ($6.95 to $8.95)
Website: www.tangierpizza.com
Rating:
By Anthony M. FUDA
Every local restaurant in every town across the United States boasts they have the best food in their respective area.
You've probably seen the commercials of Tangier's self-declaration, "the best in town." There's only one way to find out, and that's have the Burger Guyz put these burgers to the test .
We found a table away from the crowd and started on our gastronomical journey. We studied the menu thoroughly and listened to our waitress and guide Dawn Marshall before making our choices.
The menu features seven of Struthers best half-pound burgers. They are:
Hamburger
Cheeseburger
Bacon Cheeseburger
Mushroom Burger
Hillbilly Burger with barbecue sauce, onion rings and American cheese
Italian Burger topped with the best homemade greens in town and melted provolone served on grilled Italian bread
Tangier Diablo Burger with hot peppers, provolone and sauce served on grilled Italian bread.
All sandwiches include fresh-cut fries, but you can substitute onion rings, soup or side salad for $1.50.
I saw the Italian Burger with fresh greens, and this Italian boy's stomach said stop there and order now. And the stomach is always right. The greens had a great flavor, and I would have been happy with just a giant bowl of the greens. Now put those greens on top of a nicely seasoned burger with a blanket of provolone cheese, and not only is my stomach happy, but it said thank you with each bite. I prefer a medium temperature burger, but the medium-well burger was seasoned very well, and biting into the grilled Italian bread made my meal something to enjoy. Sided with fresh-cut fries, this burger was the real deal. The only thing that could have made it better was grandma's homemade gelato.
JT had the Bacon Cheeseburger (with American cheese), and said, "For a place more known for pizza, Tangier serves up a pretty solid burger. I tried the Bacon Cheeseburger and really enjoyed it. The fresh bun held up well, and the lettuce, tomatoes and onion were garden fresh. The bacon, however, was just a little on the limp side, but overall, it was a very good burger."
Scott also had the Bacon Cheeseburger, but with provolone cheese, and noted, "This was a very hearty burger. The cheese enhanced the flavor very well, and the toppings brought everything together."
Chiz found the hottest burger and said 'bring it on,' remarking, "Tangiers Bar and Pizza has a lot more to offer than just pizza! Of course, we were there to test their burgers. I tried to stick with my standard love of the heat and went with The Diablo Burger. I had to make one adjustment and substitute atomic sauce for the sauce that came with it. The burger was contained by Italian Bread toasted and featured house hot peppers and provolone cheese. The burger was rustic. It was seasoned well, and reminded me of good 'ole bar food from back in the day. A true beer drinker's delight. The Italian bread complemented everything, and the hot peppers were a tasty addition. The highlight for me was the atomic sauce. It was about a 5 out of 10 on my hot scale (which you know I like as hot as I can get it ... so opinions may vary!). The flavor of the atomic sauce was a 10 out of 10 and truly made my experience memorable. I wholeheartedly loved the atomic and must do the wings sometime. Shoot, I'd even dip the pizza in it! When looking for a quality burger in your neighborhood, check out Tangiers Bar and Pizza!"
Eric, not to be outdone on burger heat, also ordered the Diabolo Burger and said, "I found the beef to be a unique palatable flavor. The combination of hot peppers and marinara sauce was unique for a hamburger. The peppers had a more than tolerable tang to them. As someone who typically goes for the jugular when it comes to heat, it was a pleasant change of pace. But don't let that fool you into thinking these peppers lacked any flavor. I thoroughly enjoyed each bite and could even see sharing them with my 6-year-old without worry of her being overwhelmed."
Upon review of the "best burgers in Struthers," we declare Tangier's burgers a winner — and it definitely might be one of Struthers' best.
When you find yourself traveling through Struthers, make sure and stop by the Tangier. We know the sign says pizza, but the burgers live up to their own boasting. The seven burgers are great, because there are seven days of the week — one burger for each day. The only burger missing was a Pizza Burger — something to think about, guys.
Tangier also has daily specials and is a great place to showcase local bands and DJs.
Keep reading the Valley food section each Wednesday for the best food the Valley has to offer. If you think you know where the next Burger of the Year is, send the info to BurgerGuyz@hotmail.com, or on our Facebook page BurgerGuyz