Howard and Lillian Divelbiss celebrate 65th anniversary
AUSTINTOWN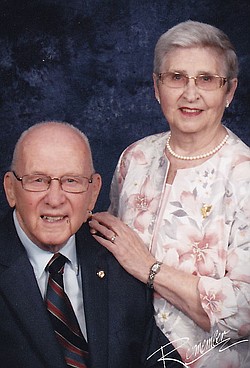 Photo
MR. AND MRS. HOWARD DIVELBISS
Howard W. and Lillian (Boyer) Divelbiss of Austintown celebrated their 65th wedding anniversary Sept. 1 with a family dinner at Davidson's Restaurant in Cornersburg.
The couple were married on Sept. 1, 1951, at Southside Presbyterian Church, Youngstown.
They have three children, Howard W. III (Sherry) Divelbiss of Austintown, Laura Ann (Joe) Assion of Medina, Ohio, and Lynn Twanette Divelbiss (Louis Warren) of Bradford, Mass.
The family also includes grandchildren, Andrea Assion of Seminole, Fla.; Katelyn Assion (Carl Stewart) of Medina; Adam Divelbiss of Austintown; and Gregg (Deena) Divelbiss of Dublin, Ohio, and great-grandchildren, Aiden, Marko, Genevieve and Vivian Divelbiss.
Mr. Divelbiss retired from Valley Mould, Hubbard, and the BP Service Station in Austintown.
Mrs. Divelbiss retired from Ohltown United Methodist Church, where she was a secretary for 30 years. She also worked at First United Methodist Church of Austintown for seven years. The couple have been members of the Ohltown UMC for 54 years.
The couple were volunteers for Hospice of the Valley, Mr. Divelbiss for 15 years and Mrs. Divelbiss for 27 years. Both now serve on the organization's mail team committee.
More like this from vindyarchives.com