GM Lordstown a part of the Valley's story for 50 years
50 Years of Lordstown GM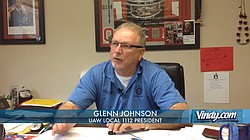 Video
Marking 50 years of the Lordstown GM plant, UAW President Glenn Johnson talks about the close knit work environment and discusses a pivotal moment in the late 90's when the joint efforts of both the union and GM management helped keep the production plant open and saved thousands of local jobs.
By Kalea Hall
LORDSTOWN
The General Motors Lordstown Assembly Complex has been a fixture in the Mahoning Valley since vehicles starting rolling off the line in 1966.
The 6.2 million-square-foot plant that occupies 1,100 acres along Interstate 80 can't be missed.
Even more evident than its visible presence, however, is its economic presence.
With a payroll of 4,500 workers, wages at the plant come out to $388 million annually.
Then, there's the Chevrolet Cruze.
The Valley's car has carved out a spot as a top competitor in the compact-car segment and has made its presence known.
This month, the plant will open its doors to celebrate 50 years of driving life in the Valley.
"For 50 years, the GM Lords- town plant has produced a number of iconic vehicles, from the Chevrolet Impala and Pontiac Firebird to full-size vans and the current Chevrolet Cruze," said Arvin Jones, GM North American manufacturing manager, in a statement. "The success of these products was made possible by the Lordstown employees, as well as numerous suppliers, local and state elected officials and, ultimately, the customers who purchased or leased the Lordstown-produced vehicles."
ROLLING OUT CHEVYS
At 10 a.m. April 28, 1966, Lordstown's first car left the assembly line. The four-door Impala sport sedan with fawn trim was built for Martin Chevrolet of Warren.
"The first car off the line brought a cheer from workers and newsmen gathered around," the front-page of the April 28, 1966, Vindicator reported.
The photograph shows Robert H. Gathman, general manager of GM's Fisher Body Division and a GM vice president; and E.M. Eates, general manager of the Chevrolet Motor Division and also a vice president, shaking hands across the hood of the new Chevy.
Fifty years later, a new generation poses with the Chevrolet Cruze for pictures.
A plant producing vehicles for this long is considered a rarity.
"That's a lengthy period of time and many, many plants have come and gone," said Jack Nerad, executive editorial director and market analyst for Kelley Blue Book. "The industry is in a constant rate of change, so for a plant to survive that long speaks well about it."
It means GM is happy with the plant and happy with the product that comes out of it. Eliminated plants are those that were more troublesome than the plants still standing today, Nerad explained.
That doesn't mean Lords- town didn't overcome problems. Any plant that provides jobs to thousands of people functions like a small city with small city problems.
Lordstown had a fair share of labor strife in the 1960s, 1970s, 1980s and 1990s. A look through the Lordstown Assembly archives will tell a story of walkouts, near strikes and actual strikes.
A January 1972 Vindicator story depicts the impact of labor trouble.
Various labor disputes had cost the production of 12,000 Chevrolet Vegas and 4,000 vans, and $3.3 million in wages were lost in the first quarter of that year. In early March 1972, workers went on strike, which lasted until the end of the month. By March 28, Vegas were rolling off the line again.
The Vietnam War, which ended in 1975, was another factor that impacted life at the plant.
"The biggest thing I tell people, it was widely known that we had a rowdy workforce, [but] at that time the whole country was like that," United Auto Workers Local 1112 President Glenn Johnson said. "It was a culture at the time. We were fortunate enough to get through that."
FACING EXTINCTION
In the 1990s, the plant came close to closing.
Herman Maass, plant manager at Lordstown from 1996 to 2001, told Inside Business Magazine he received a call in October 1996 about the future of Lordstown.
"I received a phone call from a GM executive in Detroit that a decision was made not to put a new product in Lordstown after 2000," Maass said. "I was mad, and I asked the executive if there was anything we could do to change their minds. He basically said that the manufacturing costs at Lordstown were so high that he didn't see how we could possibly make that kind of significant improvement because it had never been done before."
Jim Graham, who started at the plant in 1968, was president of Local 1112 from 1997 to 2011. The union has represented the assembly plant workers since 1966.
Maass met with union leadership and told them management wasn't the enemy, but the foreign competition was.
"They [were] trying to kill us," Graham said. "The only way we can survive is by working together."
Maass and Graham went out together and promoted the plant.
"I had good people behind me," Graham said. "If I had not had those people behind me, we would have never survived."
Graham also knew there had to be concessions to keep the plant alive.
"It wasn't a hard sell," Graham said. "It passed unanimously. We had to take concessions today so we can live to fight tomorrow."
Graham remembers the days when life was rough, but fun at the plant. He started out making $2.35 an hour. On his first day, he was building seats together and shot a piece of steel through his hand.
"They put a [bandage] on it and said, 'Get back to work!'"
Whenever Graham talks about the Lordstown plant today, he smiles. He sees its story – as many do – as one of success and survival.
"If it wasn't for that plant, this community wouldn't be here," he said.
EVOLUTION AT THE PLANT
Each job in the plant is tied to eight other jobs.
With that statistic, Glenn Johnson, the current UAW Local 1112 president who represents 3,000 assembly plant workers, can't imagine what this area would be like without the plant.
"It would be quite devastating," he said.
Johnson started on the line at Lordstown in 1977. He worked in the body shop.
Johnson was young and in fairly good shape, but he still felt the physical pain of the manual labor job.
"I thought this is really, really tough work," Johnson said. "Some of the training and some of the guys helped me get through."
Johnson can't believe how far the company has come since he started. He remembers shirts being optional in the body shop back then, and the body shop was bare metal. That would never happen today.
"We have really evolved," Johnson said.
He noticed changes to the plant's technology during production of the Chevrolet Cavalier and Pontiac Sunbird in the mid-1990s.
Today, the plant has about 1,200 robotic cells with more than 23.5 miles of conveyor, which makes Lordstown among the largest single-line manufacturing facilities in the world.
In 2014, GM invested $50 million to upgrade the plant for the next-generation Cruze, bringing in more assembly technology.
Johnson sees the Chevrolet Cruze, a top-selling compact car now in its second life cycle, as a savior for GM when the automaker came out of bankruptcy.
The Cruze launched in 2010 at Lordstown and quickly rose to success in the United States.
"We knew it was an exciting vehicle and it would fit a niche market," Johnson said. "I didn't really expect it to take off like it did."
Production of the next-generation Chevrolet Cruze is underway. The Cruzes started to be shipped to dealers March 21.
"The Lordstown story is one of success and survivorship," Johnson said. "What we do best is build cars."
FABRICATION PLANT SUCCESS
The 46-year-old United Auto Workers Local 1714 is led by a second-generation autoworker who also understands the importance of the plant here.
Robert Morales, president of Local 1714 representing about 1,400 fabrication plant workers, has been supported by GM for 39 of his 45 years.
"It was talked about and I heard about it and came out to [work at GM] myself," he said. "I liked it. I felt it was something I could thrive at."
Morales remembers his father talking about the hard and hot work at the plant, but that didn't stop him.
"Hard work has never been something that my family shied away from," Morales said.
Morales got started at the plant in 1995 as a material handling driver.
Back then, there were about 3,000 members in Local 1714. Technology and other factors led to the cutback.
"With time comes change," Morales said.
Today, the fabrication plant – where it all starts – stamps parts for the Cruze, Buick Verano and Chevrolet Volt. In the body shop at the fabrication plant, the shell of the vehicle comes together and is then shipped to Local 1112's assembly side.
Morales and Johnson work together to promote the plant's production of the Cruze and to support the community through a variety of organizations.
Both would like to see the plant survive another 50 years.
"The Lordstown story is there's a lot of hard workers out there," Morales said. "A lot of times, we spend more time in the plant than we do with our families."
More like this from vindyarchives.com