JD Eicher readies 'The Middle Distance'
Past Event

Thursday, May 5, 2016, 7:30 p.m.
Soap Gallery, 117 S. Champion St.,, Youngstown
All ages / $15
Staff report
YOUNGSTOWN
Related: JD Eicher prepares a more personal album
The Middle Distance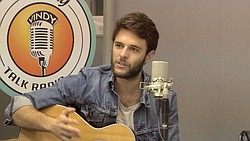 Video
JD Eicher talks about his new album "The Middle Distance" being released this week on Friday with a release party on Thursday night at the Soap Gallery in downtown Youngstown.
"The Middle Distance" – the new album by JD Eicher – is getting closer.
• The 10-song collection by the singer-songwriter-band leader who hails from Canfield will be released Friday.
Fans of the critically acclaimed Eicher can get a live listen to the new music a day before the release. Eicher and his band will perform a record-release show at 7:30 p.m. Thursday at Soap Gallery, 117 S. Champion St., downtown Youngstown. Admission is $15 and includes a copy of the new CD. Singer-songwriter Steve Everett is also on the bill.
• Eicher will be a guest on Vindy Talk Radio, the daily live talk show accessible from Vindy.com with host Louie Free. He will discuss his new album and play a few songs from it.
If you can't make it to Thursday's show, Eicher will have another record-release show at 8 p.m. Friday at Frechard Gallery, 5871 Forbes Ave., Pittsburgh (admission is $15, includes CD).
After that, Eicher will head to Everett, Fla., to take part in Rock by the Sea, a music festival from May 12-15. His schedule through the rest of summer includes many shows in the Youngstown-Warren region. Check jdeicher.com.
• The new album represents a few changes for the songwriter and performer.
Eicher is known for his thoughtful lyrics that delve into the human condition. That certainly hasn't changed for the new album; if anything, it's even more introspective.
• Eicher said he took a journal- entry approach in composing the new songs.
"The music that I'm releasing is really mirroring who I am and where I am at this time in my life," he said. "It's easy to perform songs when they're very true. I'm really glad that my career has taken the longer, 'scenic' route, because the music I'm writing now has a certain truth to it that I'm not sure I would have found otherwise."
The new album is the first since the trilogy he released between 2009 and 2013. Titled "The Shape of Things," "Shifting" and "Into Place," the three releases, under the moniker JD Eicher and the Goodnights, fit together.
• The new album drops The Goodnights from the title, but Eicher said the band is still very much part of the act. He'll perform with the full band regularly this summer, including at Thursday's show at Soap Gallery.
The name change was made necessary to simplify things, because Eicher plays a lot of solo shows. It also reflects the personal nature of the new record.
More like this from vindyarchives.com