Bishops mark 73rd anniversary at family dinner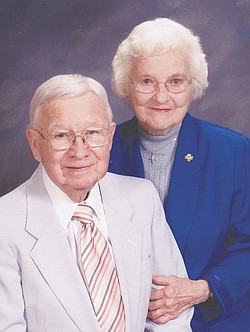 Photo
Mr. and Mrs. Robert Bishop
AUSTINTOWN
Mr. and Mrs. Robert Bishop of Austintown celebrated their 73rd wedding anniversary at a family dinner Jan. 10 at a local restaurant.
Hosting the event were the couple's daughters and son-in-law, Joy Bayless and Gay (John) Blackann, all of Austintown. The Bishops are also the parents of Sue (Bob) Blake of Clearwater, Fla. Seven grandchildren and nine great-grandchildren complete their family.
The former Doris Fee and Mr. Bishop were married Jan. 11, 1943, before a justice of the peace in Seattle, Wash. She is a homemaker and 50-year member of Eastern Star.
She also belongs to the United Methodist Church Women and sang in the choir at West Austintown United Methodist Church, where the couple are members.
Mr. Bishop retired in 2011 at age 90 from U.S. Steel Ohio Works, McDonald Steel, where he was an electrical test engineer. He was in the U.S. Navy for 11 years and served aboard the USS Tennessee (BB 43) at Pearl Harbor during World War II and aboard the USS Shenandoah during the Korean War.
He is a past master of Hillman Lodge and belongs to Pearl Harbor Survivors Association and Amvets.