HAPPY 90TH BIRTHDAY | Lucille E. Sheldon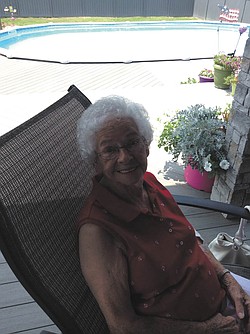 Photo
HAPPY 90TH BIRTHDAY
Lucille E. Sheldon
Born: Feb. 27, 1926, in Worthington, Pa.
Home: Lives in Boardman.
Parents: The late Tom and Olive Pennington.
Siblings: Lynn Pennington and Jim Pennington. Four brothers and two sisters are deceased.
Husband: Married John Sheldon in 1961. He is deceased.
Children: Mary Bailey of New Waterford and the late Doris Bokesch, who lived in Boardman.
Grandchildren: Five.
Great-grandchildren: Four.
Employment: Worked for seven years at Swopes Valu King.
Church membership: Paradise Lutheran Church for 35 years.
Miscellaneous facts: Sang country music on WPIC radio in Sharon, Pa. She also baked and decorated cakes and enjoys gardening.