Deltas will celebrate 65 years of service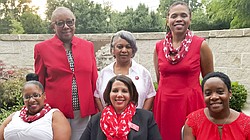 Photo
SPECIAL TO THE VINDICATOR Delta Sigma Theta officers and planning committee members for the 65th local chapter anniversary met recently on the patio at Leo's Ristorante in Warren to make plans for the Sept. 24 celebration. Sitting, from left, are Stephanie Jones, event chairman and ways and means co-chairman; Susan M. Moorer, chapter president; and Chantelle Hallman, first vice president; and standing are Michele Dotson, ways and means co-chairman; Gwen Montgomery, committee member; and Dr. Sherri Lovelace-Cameron, auction coordinator.
Staff report
HOWLAND
Members of the Youngstown Alumnae Chapter of Delta Sigma Theta Sorority Inc. are inviting residents of Youngstown, Warren, Akron and Cleveland to attend the celebration of 65 years of service as a local chapter. The celebration will take place Sept. 24 at Leo's Ristorante, 7042 E. Market St. A social hour will begin at 6 p.m. with dinner at 7. Dress is semi-formal to formal.
The cost is $60 per person. To purchase tickets, call 330-519-7146 or contact any member of the local Delta chapter. In Warren, contact Lillie Johnson at 330-392-3296.
The event will feature a cash-only auction and cash bar. Entertainment will be provided by Howard and the Five Point Band with a special performance by The Daughters of Bethel. The festivities will highlight accomplishments of the local chapter as well as member contributions.
Proceeds will benefit the Mary McLeod Bethune Scholarship Fund, voter education and registration, health and financial trainings and mentoring as well as book reviews and a county wide art contest for young people. Since the fund's inception, the Youngstown Alumnae Chapter's scholarship fund has awarded more than $300,000 to deserving students in the Mahoning Valley and Warren area high schools.
Delta Sigma Theta members continue to dedicate themselves to the sorority's Five Point Programmatic Thrust developed by the founders involving economic development, educational development, international awareness, physical and mental health and political awareness.
Delta members have been committed to public service for 103 years all over the world. Its goals are to provide positive programs, workshops and trainings according to the needs of the community for young people and older citizens. They collaborate with other community groups for positive outcomes, especially in education.
Officers for the coming year are Susan M. Moorer, president; Chantelle Hallman, first vice president; Crystal Davis, second vice president; Renee Carnathan, recording secretary; Stephanie Jones, corresponding secretary; Dawn Powell, treasurer; Cynthia Wilson, assistant treasurer; and Teresa Rice, financial secretary. Special chairman for the event is Jones. Ways and means chairmen are Jones and Michele Dotson. Committee members include Moorer, Nancy Murray, Charlotte Grant, Carnathan, Gail Waters, Davis, Eugenia Atkinson, Cynthia Moore, Octavia Payne and Nikki Davis.
Deltas are asking former Black Excellence Award recipients to buy tickets, and they are seeking corporate sponsorships. For questions regarding sponsorships, call 330-519-7146 or email srlovela@cc.ysu.edu.
More like this from vindyarchives.com