HAPPY 99TH BIRTHDAY | Elizabeth McCaughtry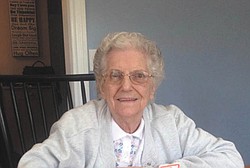 Photo
Residence: Struthers
Date of birth: April 19, 1917, in Venango County, Pa.
FAMILY
Parents: Edward and Myrtle Erb
Siblings: One sister, Alma Marhofer, who is deceased.
Spouse: Married Dale H. McCaughtry on March 26, 1938. He is deceased.
Children: Robert H. McCaughtry of Acworth, Ga.; Carol L. Christoff and Dale R. McCaughtry of Struthers; and Donald C. McCaughtry of Columbiana. William E. McCaughtry is deceased.
Grandchildren: 14
Great-grandchildren: 20
BACKGROUND
Education: 1936 graduate of Hubbard High School.
Employment: Retired from St. Elizabeth Youngstown Hospital.
Memberships: Struthers United Methodist Church.