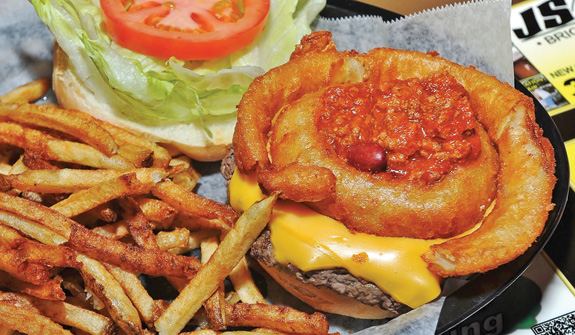 ---
If You Go...
Where: Leon's Sports Bar & Grill
Address: 1111 Niles-Cortland Road, Warren
Phone: 330-856-3627
Hours: 11 a.m. to 2 a.m. Sunday through Saturday
Grade: 3.5 Stars
Menu: Seven burgers ($5.25 to $8.25)
Facebook: Leon's Bar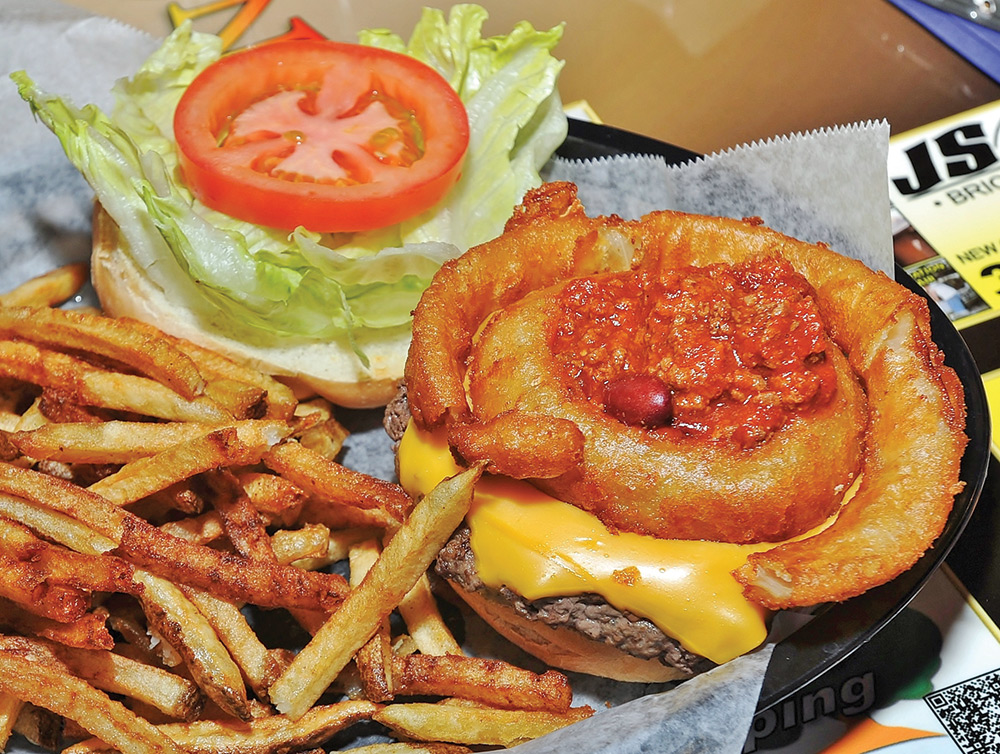 Photo
Leon's Deluxe Burger, a burger with chili, onion rings, lettuce, tomato and cheese available at Leon's Sports Bar and Grille.
By Anthony M. Fuda
What goes best with music and a couple beers? If you said a juicy, tasty burger, you would be right.
Local bands are featured at Leon's, and the posters on the walls tell you who is playing next. They get the favorites, such as Haymaker, Edison's Medicine, and Huckin Fillbillys — to name just a few.
Now, pair any of those bands with a burger and fries, and you have an evening of fun ahead of you.
From the outside, you think you will walk into a small mom-and-pop, regulars-on-the-barstools establishment. Leon's is nice, and it has its regulars, but this bar offers more than a ballgame on a TV in the corner. The place is very clean, huge and ready to accommodate any of those bands.
For when the weather hits that shorts-wearing temperature, Leon's has an outdoor sand volleyball court — again, perfect for some brews and a burger.
That's what we were there for — the burgers. Our waitress-bartender, Natalie Conrad, helped us on this month's quest. The menu offers seven half-pound burgers: Cheeseburger; Hamburger; Blue Burger, Swiss Onion Burger, Mini Burger (4 plain mini burgers); and the Leon's Deluxe Burger (chili, onion rings, lettuce, tomato and cheese).
The burgers can be ordered with fresh cut, crispy fries (for an extra $1.50), or pub chips. We all had the fries and thought these fries were some of the best this area has to offer. You can say they were almost the perfect fries.
We missed Burger Day, but if you go on Tuesday and purchase any burger, the fries are free.
We looked around the bar as we waited for our burgers and noticed an ample dance floor and pool tables ready for action. We kept looking above the pool tables trying to read the plaques. So we walked over and saw all the awards from the American Pool Players Association.
So, Leon's has high-class music and great pool players. Now let's see how these burgers rate.
I had the Leon's Deluxe and first noticed the toasted bun, because it held in all the juices from this half-pound burger, along with the chili — without faltering.
The lettuce and tomato offset the chili and onion ring perfectly. With each bite you got the fresh crispness of the lettuce and tomato, then hit the hearty chili and onion ring, and finished with the juicy beef just oozing flavor. I was waiting for a sloppy mess, but this bun kept everything intact until my final bite. The burger kept me so focused that I saved my fries for round two of my meal. An overall delight for my palate.
Eric also saw the Leon's Burger and said: "After looking at the menu, I chose the Leon's Deluxe burger. I went with this due to it including both chili and onion rings, which is something you don't commonly see paired on a burger. These definitely made a huge impact to the taste. Coupled with the staples of lettuce, tomato and cheese on a lightly toasted bun, this burger was a taste sensation."
JT went with a Cheeseburger, adding some bacon, and said: "The bacon cheeseburger was very good and the fresh-cut fries were done to crispy perfection. I hadn't been to Leon's in years and I was really impressed with the spacious addition."
Knuckles also chose the Cheeseburger, but modified it for his tastes, and said: "Once in Leon's you get the feeling of that friendly neighborhood bar and seeing all the championship mirrors from their pool leagues and hearing they have some great outdoor volleyball leagues, you hope their burgers can match that elite level.
"The burger choices on the menu at Leon's are limited, but only if you follow the rules. Anything else they have on any menu item you can add to your burger, which is exactly what I did. I chose the standard Cheeseburger but switched to provolone cheese and added bacon, grilled peppers and onions with the side of fries.
"I wasn't asked how the burger was to be cooked so I just let them handle it. It was clear that this burger was big. The half-pound burger filled the lightly toasted kaiser roll and you could see the thick bacon, grilled onions and peppers from all sides. After slicing into the burger, I was a bit under-whelmed, as it was cooked to well done — not what I was hoping for as I typically go medium rare. But ... the nice char added a good flavor to the gently seasoned beef. The fresh peppers and onions paired well with the provolone cheese and made this burger pretty good. As a kicker, the crispy fresh fries reminded me of the upcoming Canfield fair."
When you're driving through Howland and you see that sign that says Leon's, don't just look to see who is playing next. Stop in, pull yourself up to a table and enjoy a fine burger — and if you're lucky, listening to music from one of those favorite local bands will cap off a great evening with that burger.
Keep reading the Valley food section each Wednesday for the best food the Valley has to offer. If you know of a burger that should be on our hit list, send the info to burgerguyz@hotmail.com, or on our Facebook page BurgerGuyz
Battle of the Burgers 2
After last year's success, the BurgerGuyz will present Battle of the Burgers 2 from 4 to 11 p.m. June 5 and noon to 11 p.m. June 6 on Federal Plaza in downtown Youngstown.
Also, come out and enjoy the Fat N' Furious: Youngstown Thunder Car Show from noon to 4 p.m. June 6. Some proceeds from this event will benefit the Rich Center for Autism.
We'll be back in next week's Valley Food with a preview of this year's Battle of the Burgers. Get the lowdown on the burgers and the bands.