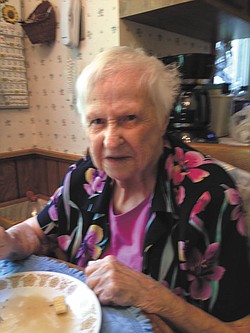 Photo
HAPPY 100th BIRTHDAY
Blanche McLaughlin
HONOREE
Residence: Austintown
Date of birth: Aug. 12, 1915, in Frostburg, Md. She came to Youngstown in 1929.
FAMILY
Parents: Frank and Rose Miller
Siblings: Sister Ursula Marie, an Ursuline nun, Alverna Miller, Margaret Spencer, Joseph Miller, James "Boots" Miller, Lawrence "Bing" Miller and John Miller are deceased.
Spouse: She married Thomas McLaughlin on June 22, 1935, at St. Patrick Church in Youngs-town. He died in 1961.
Children: Thomas McLaughlin Jr. and Rosemary McLaughlin, both of Austintown; John McLaughlin of Medina, Ohio; JoAnn McLaughlin Winterbauer of McDonald; Ursula Lyons of Canton; and Alice Hobbs of Columbiana.
Grandchildren: 26
Great-grandchildren: 42
Great-great-grandchildren: Four
BACKGROUND
Education: Graduate of South High School in Youngstown
Employment: Homemaker
Memberships: St. Joseph Church in Austintown and St. Patrick Church in Youngstown
ADDITIONAL INTERESTS
Other information/lifestyle: She enjoys cards, bingo, the casino and chocolate. Her philosophy for a long life is to eat well, avoid stress, be kind to people, don't forget where you came from and stay faithful to God. She has been an example of strength, courage and perseverance to her family.
CELEBRATION
Date and location: On Aug. 9 family and friends attended a Mass at St. Joseph Church, and a birthday banquet took place at Los Gallos in Boardman.