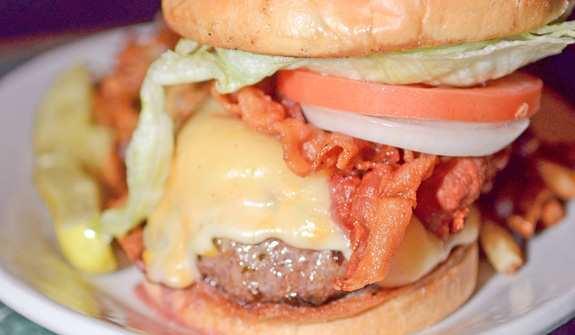 ---
If you go
What: High Pointe Restaurant & Tavern
Address: 754 Youngstown-Warren Rd. Niles
Phone: 330-544-3300
Hours: Restaurant: Monday through Saturday 11 a.m. to 9 p.m. Tavern: Monday through Friday 4 p.m. to 2 a.m. and Saturday and Sunday 11 a.m. to 2 a.m.
Menu: 13 Burgers ($6.99 - $8.99)
Website: Facebook - High Pointe Restaurant & Tavern
Grade: 4.5/5
by: Anthony Fuda
Everyone wants to be on top. People climb to the top of the tallest mountain, go to the top of the hill to get the best view, and wait in hour-long lines to ride the tallest roller coaster.
And the trek to find the top burger in the Mahoning Valley took us to High Pointe. We previously visited this restaurant when we were fledgling burger reviewers. But with its new chefs and a lot of buzz about a new burger menu, we wanted to see if this was the burger pinnacle.
High Pointe has two sides. A restaurant for a nice family meal, or the bar, where you can catch a game and grab a beer. And when the weather is nice, they have an outdoor patio where you can enjoy your evenings with a burger in the fresh air.
We chose the bar side, so we could be a little rowdy and catch some of the game. Zeroing in on the burger section, we were ready to put this new menu to the test. Our server, Maggie Carone, helped guide us on this month's burger journey.
Owner Tom Crater welcomed us with an appetizer of the pizza of the month, which ironically was a cheeseburger pizza. It tasted just like a cheeseburger on a pizza crust — so when you want a burger and everyone else says pizza, you know where to go.
The burger menu has 15 amazing half-pounders, which made it hard to choose just one. Some of the burgers are Classic (lettuce, tomato, onion, pickle), Dragon (roasted red peppers, crumbled bleu cheese, sweet heat sauce), Rodeo (bacon, onion ring, American cheese, side of barbecue sauce), Spicy Jack Daniels (spicy Jack Daniels sauce, American cheese, jalapenos), Deluxe (American, Swiss, cheddar, pepper jack cheeses, bacon, grilled onions, mushroom, lettuce, tomato, onions), Smokehouse (on crispy onion straws, bacon, cheddar cheese, ranch steak sauce) and the signature High Pointe Burger (two patties, hot peppers, pepper jack cheese and chain smoker sauce).
You can side your burger with fries, coleslaw or applesauce. If you choose fries, be prepared for a huge stack of them.
Tom stopped by to tell us 95 percent of the menu is made in house, and we could tell by the freshness of the hand-made burgers he was serious.
This is one of my favorite restaurants. I've had most of the food, especially the burgers, and have never been disappointed. I've tried all the burgers but keep coming back to the High Pointe Burger.
The beef has a hearty grilled taste and everything is brought together with the toasted roll the burger is nestled between. The burger is so big, it is brought out with a knife impaling the sandwich to keep it together.
Eric also ordered the High Pointe, and said: "I had heard that this was a popular option, and after my first bite I knew the hype was legit. One thing that made this burger stand out was the amazing chain smoker sauce that has to be tasted to believe. I of course took it a step further and added extra jalapenos for more bite to satisfy my need for heat.
"The beef had an amazing flavor on its own and was cooked perfect to order. The bun, while having trouble holding up to all of my topping choices (mostly the extremely generous portion of sauce I doused it in) still had a fresh taste. Topped off with the burger staples of lettuce, tomato and onion, and served with an ample pile of fresh cut french fries, this burger was without a doubt the High Pointe of my day."
Chiz received the BurgerGuyz surprise, saying: "I was running a little late to dinner, and told my fellow BurgerGuyz to order me something especially delicious. I got hooked up with an inviting "pizza burger." This monster had two pieces of pizza as the bun. In between the pizza lay a delightful patty of semihot sausage.
"They hooked me up with some hot peppers on it too. It was gushing with cheese, and I would be lying if I didn't say I'm drooling on myself right now just thinking about it. I was very impressed with all of the food we tried, including the fresh-cut french fries. I will highly recommend this burger joint to friends and family. I, too, will be back."
Scott had the Smokehouse, and said: "The flavor of this burger kept me wanting more because it was so good. The thing I liked most about this meal was you got quality and quantity. Sometimes places give you a lot of food to mask no flavor. But at High Pointe, they give you a ton of food with great flavor."
Spatman went with the Deluxe, saying: "This 8-ounce burger was nicely seasoned and grilled well done to a crispy outer crust yet juicy inside and smothered in melted American, cheddar, Swiss and pepper jack cheeses and topped with grilled onions and mushrooms. It had lettuce, tomato and onions on the side. From the very first to the last bite, these ingredients exploded to give my taste buds an unbelievable experience and left me wanting more. Placed on a toasted bun and sided with coleslaw, it was a great entree that requires a repeat performance. I give it a whopping 4.5 out of 5 on my wet-nap scale."
Knuckles also saw the Deluxe and knew he was in for something good, saying: "Living in the Mahoning Valley, sometimes you look past the obvious and unfortunately that's what I've done when it comes to the burgers at High Pointe.
"The burger options at High Pointe are varied, and every one of them sound special, but the Deluxe jumped out at me for the inclusion of four cheeses and my addiction to grilled onions and mushrooms!
"The Deluxe Burger is an 8-ounce burger patty topped with American, Swiss, cheddar and pepper jack cheese, bacon, grilled onions and mushrooms, lettuce, tomato and onion — and, as always, I ordered mine medium rare.
"When this burger arrived, I was truly amazed at the behemoth burger presented with a nice side of fresh-cut fries. This burger was at least eight Knuckles high. Cutting into this burger presented me with the glorious, perfectly cooked medium rare beef, and I knew my failure to see the obvious has blinded me no more.
"The flavor of the beef melded perfectly with the quad-cheese and toppings and I was pleasantly surprised."
You don't have to climb the highest mountain to get burgers that are the tops. Just stop by High Pointe and order any of their excellent hand-made burgers, and you will feel like you're on Cloud 9.
Unfortunately, circumstances prevented our Free Burger Platter Contest winner from joining us this month. Check the Valley Food page weekly for the next chance to win.