Youngstown Playhouse opens season with 'A Chorus Line' ONE SINGULAR SENSATION
By GUY D'ASTOLFO
YOUNGSTOWN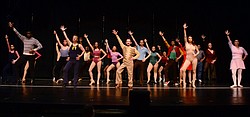 Photo
The cast of "A Chorus Line" performs the opening jazz combo during dress rehearsal at the Youngstown Playhouse on Sept. 9.
The Youngstown Playhouse wanted to open its 90th anniversary season with a bang: a splashy musical it had done in the past and with great success.
So it turned to David Jendre — the go-to guy for a spectacular production — for suggestions.
To him the answer seemed obvious: "A Chorus Line."
It might have come down to numbers.
It's been exactly 20 years since Jendre last directed "A Chorus Line" at the Playhouse. The musical itself turns 40 this year. And the Playhouse is marking its 90th season.
Jendre will direct "A Chorus Line," which will launch the theater's 2014-15 season when it opens Friday. In addition to directing, he is also the choreographer and is playing the role of Zach — just like he did when he helmed the production at the Playhouse in 1994 and in 1986.
"It's so right for the 90th anniversary," said Jendre. "There are so many universal themes in it, and I wanted to give it a shot again."
Bernie Appugliese, manager of the Playhouse, said the goal in selecting shows for the 90th anniversary season was to revisit shows that were big hits for the theater, and also milestones.
"In regard to 'A Chorus Line,' we were among the first group of community theaters to get the rights to produce a nonprofessional version in the 1980s," said Appugliese. "It ran for over six weeks and played to thousands and thousands of people. We revisited the show in the '90s and again sold out the extended run. David Jendre directed and choreographed both versions, so if it ain't broke, don't fix it."
Appugliese said "A Chorus Line" not only tells the universal story of every performer, but also the Youngstown Playhouse story. "It's about the love of performing," he said. "It's about what we must sacrifice to perform, to entertain. What we do for love."
The musical follows a group of Broadway actors who are trying out for a new musical. It opened on Broadway in 1975 and won nine Tony Awards and a Pulitzer Prize for drama. It was made into a film in 1995.
"It has themes of rebirth, second chances, success and failure, and that makes it pretty appropriate for this," said Jendre. "It also gets down to basics, things like competition, job interviews, and striving to make a living."
Jendre's attachment to the production raises expectations among area theater-goers. His 2010 production of "Chicago" at the theater played to six sold-out houses and then a seventh, which was added to meet demand. That's not something that happens every year, and, apparently, many people remember it.
Tickets sales for "A Chorus Line" have been "tremendous," said Appugliese. "We're experiencing one of the biggest advance sales in many years. People smell a hit and, trust me, we will not disappoint."
The show attracted auditionees from beyond the area, and Jendre selected an "astoundingly talented" cast of 24.
"They are a great bunch, and they bonded to each other," he said. "It's a very strong cast. I would like to think it's one of my best ones ever."
The demands of "A Chorus Line" calls for a triple-threat entertainer: actor-dancer-singer. "I believe this is the show that coined the term 'triple threat,' said Jendre. "I pulled talent from everywhere. Dance studios helped me out, and I got voice majors from the Dana School of Music."
The veteran director found it revitalizing to lead the young group. "It's kind of exciting to teach them this classic piece of theater history," he said. "You get to the point that you take things for granted, but none of these kids knew this show, and it's a thrill to teach a new generation what it's all about. They have dedicated themselves wholeheartedly to it."
If "A Chorus Line" is about striving and overcoming the odds, the Playhouse production mirrored that theme.
The actor playing the leading role of Cassie, a Cleveland resident, had to pull out several weeks ago. Jendre had to scramble to fill the role and selected Stacy Anderson. "She is doing a really nice job," said Jendre. "Stacy was not afraid to take on the challenge, and that was of the utmost importance."
That bump in the road was repeated when another actor bowed out. "Joshua Green took it over and learned the role in three days," said Jendre.
The Playhouse production will feature costumes that utilize the original Broadway designs. "I made a deal with an old friend who is in costume design in California. We rented the original costumes," said Jendre. "The costumes for the finale are spectacular."
To further boost the Playhouse production, a nine-piece ensemble led by music director Matt White has been hired.
Set designers Jim Lybarger and Johnny Pecano created scenery, including a finale backdrop that utilizes the same design created by the late Paul Kimpel, who was scenic designer at the Playhouse for many years.
"I'm giving [Kimpel] a credit," said Jendre. "It is so beautiful."
In addition to Anderson and Green, the cast includes Jarrett Kerpsack, Emily Schrader, Matthew Malloy, Snezana Jelic, Laura Fedina, Joanna Andrei, Jackie Collins Stevens, James Major Burns, Donny Wolford, Emily Scott, Emelia Sherin, Stephen Hall, Nathan Tustin, Rosie Jo Neddy, Claire Blackledge, Kathleen Sanfrey, Caitlin Kalasky, Zeddy Monnette, Isaiah Shelton and Dairan Shawn Brogdon. Jacinda Madison and Starr E. McClure serve as additional vocalists.
Paul Ryan Byrne, who was also in the 1986 and 1994 productions, is assistant director and is also in the cast. Leslie Brown is the stage manager.