Miss Gordon, Mr. Krzywkowski plan 2015 rites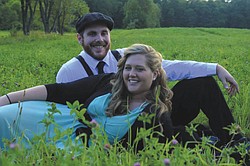 Photo
Tiffani Gordon and Starbuck Krzywkowski
SOUTHINGTON
Tiffani Gordon and Starbuck Krzywkowski, both of Newton Falls, are engaged to be married, her father and stepmother are announcing.
She is the daughter of Allan and Cyndi Gordon of Southington and Robin Pfeiler of Brunswick, Ohio. Brendan and Jody Krzywkowski of Independence, Ohio, are his parents.
The couple will be joined in marriage during a 6 p.m. June 26, 2015, ceremony at Forsyth Park in Savannah, Ga. Invitations will be issued for the ceremony and for a reception on July 12, 2015, in Newton Falls.
The bride-to-be graduated from Choffin Career Center with a surgical technology degree. She is employed as a certified surgical technologist for St. Joseph Health Center in Warren. She also attends Kent State University, pursuing a bachelor's degree in nursing.
The prospective groom attends Kent State University, where he studies manufacture engineering. He is a pultrusion operator for Custom Pultrusions Inc. in Aurora, Ohio.
More like this from vindyarchives.com