Angels to host Holiday Brunch and Sweet Shoppe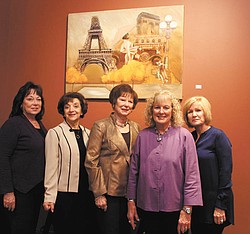 Photo
ROBERT K. YOSAY | THE VINDICATOR Angels of Easter Seals are preparing for the annual Holiday Brunch and Sweet Shoppe set for Dec. 10. From left to right are event chairwomen, Kathy Carroll, Joan Zarlenga, Geri Kosar, President Lynn Sahli and Phyllis Bacon.
Staff report
BOARDMAN
The Angels of Easter Seals will host its annual Holiday Brunch and Sweet Shoppe on Dec. 10 at Mr. Anthony's, 7440 South Ave. Mimosas will be served at 10:30 a.m., and a brunch, which will feature entrees from the Angels' cookbooks, will begin at 11:30.
More than 30 varieties of cookies will be featured from the Angels Friends cookbooks Volume I, II and III and Party Favorites. The cookbooks and cookbook baskets also will be for sale and cookies and pastries may be ordered for the holidays. The event will include an auction in a bag, a 50-50 raffle and centerpiece sales.
A special treat will be informal modeling by Chico's of Boardman. Angels will model cocktail, casual and holiday designs, and guests will receive complimentary coupons from Chico's.
The cost is $30 per person, and table reservations are available. To make reservations or to purchase Angels cookbooks, call the Easter Seals Center at 330-599-5500 or contact any Angel.
All proceeds from the event will benefit children and adults with special needs who are served by Easter Seals and Youngstown Hearing and Speech Center.
More like this from vindyarchives.com