Prayer, brunch honor Rusnaks' golden milestone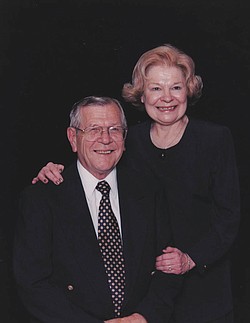 Photo
Mr. and Mrs. Walter Rusnak
POLAND
Dr. Walter and Laurissa Rusnak of Poland celebrated their 50th wedding anniversary with a prayer service and brunch on June 29 at St. John the Baptist Orthodox Church in Campbell. Their children hosted the celebration, which was by invitation.
The couple's children are George Rusnak and John Rusnak of Campbell and Melanie Clark of Beloit. There also are six grandchildren in the family.
The former Laurissa Sirilla and Mr. Rusnak were married June 27, 1964, at St. John the Baptist, where they are life members.
Mrs. Rusnak works in the records department at Youngstown State University. She is a member of the church choir and its sisterhood, the Campbell O Club and the Campbell Alumni Association.
Mr. Rusnak retired in 1994. He, too, is a member of the church choir and the Campbell O Club, and he belongs to the Campbell Gridiron Club. An Army veteran, Mr. Rusnak served from 1956 to 1960.