Mr., Mrs. Conti mark 50th with renewal of vows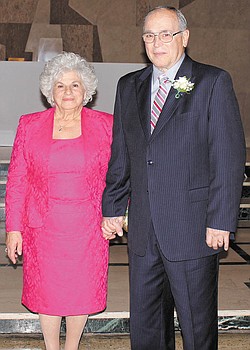 Photo
Mr. and Mrs. Donald Conti Sr.
HUBBARD
Mr. and Mrs. Donald Conti Sr. of Hubbard celebrated their 50th wedding anniversary with family and friends on Dec. 7.
The couple renewed their vows and exchanged rings at St. Patrick Church, where they are members. The Rev. Tim O'Neill officiated at the ceremony, which a number of family members and friends attended.
Afterward, the couple's children hosted a surprise dinner at The Gentry.
Their children are Nicholas (Sonya) Conti Sr., Vincent Conti and Donald (Ingrid) Conti Jr. Three grandsons complete the family.
Mr. Conti and the former Rita Julius were united in marriage Dec. 5, 1963, in Winchester, Va. They exchanged vows in a ceremony Jan. 25, 1964, at Our Lady of Mount Carmel Church in Youngstown.
Mrs. Conti retired from St. Elizabeth Health Center in 1999 after more than 30 years of service. Mr. Conti is a retired cement mason of Union Local 179, where he has been a member for 50 years.
More like this from vindyarchives.com