Record low temperatures expected today
---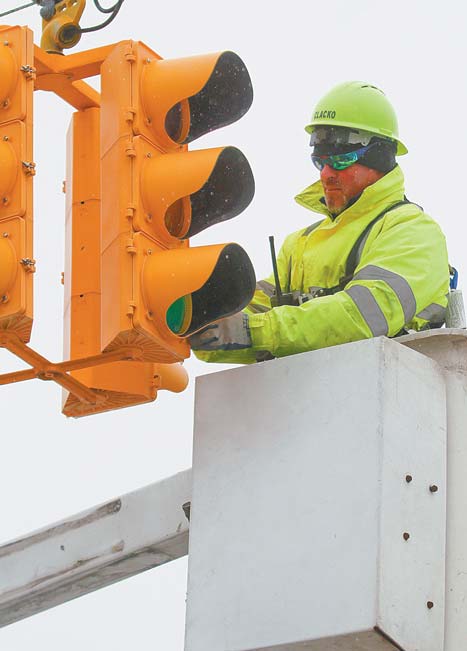 Photo
Jimmy Clacko with the city of Youngstown's traffic engineers department replaces a burned out bulb on a traffic signal at Delason and Oak Hill avenues on the South Side. Clacko said a lot of lights burn out due to cold weather.
Staff report
It's cold outside — ridiculously cold.
The temperature dropped more than 50 degrees Monday in the Mahoning Valley.
"That is an incredible swing in temperature for this location," said Kirk Lombardi, a meteorologist with the National Weather Service in Cleveland.
The Monday high was 46 degrees at 12:49 a.m. and kept dropping. At 6 p.m., it was minus 4, and was supposed to reach 11 degrees below zero at midnight with wind chills of minus 37, Lombardi said.
The previous low-temperature record for Jan. 6 in the Mahoning Valley was minus 2 in 1988.
The record for Jan. 7 — minus 6, also in 1988 — will easily be shattered today with an expected low temperature of minus 19 around 6 or 7 a.m. with wind chills of 47 degrees below zero, Lombardi said.
"The wind chill will be dangerously cold," he said. "Exposed flesh will freeze within 10 minutes with that wind chill."
The expected minus 19 would be only 3 degrees higher than the Valley's record-low temperature of minus 22 on Jan. 19, 1994.
The high today is supposed to only reach 2 degrees, Lombardi said.
"Warmer air will come, and it won't be quite as cold," he said, with a straight face, in reference to reaching 2 degrees today.
The high on Wednesday will be in the low 20s, the lower 30s on Thursday, the upper 30s on Friday and the mid-40s on Saturday, according to the NWS forecast. The average high for this time of the year is 32 degrees.
"It will be hot [on Friday and Saturday] compared to what we're experiencing. People will be running around without wearing coats," Lombardi said.
The weather caused the cancellation of schools today, as it did Monday, throughout the Valley. Several superintendents making the call for no school today on Monday afternoon.
A power outage affected 1,400 Ohio Edison customers in McDonald and 1,200 in Weathersfield, said an Ohio Edison area manager.
Robin Patton of Ohio Edison said at press time it was not known what caused the outage.
There also were reports of power outages Monday evening in parts of Liberty, Austintown, Girard and Youngstown's North Side though it wasn't known if they were weather-related.
Boardman Township Government Center on Market Street is open to all Mahoning County residents who need to warm up.
And the Mahoning County Emergency Management Agency announced that the American Red Cross will have a warming center open today at Boardman High School, 7777 Glenwood Ave., from 9 a.m. to 5 p.m.

Any county resident who need more assistance in staying warm should call 211.
When temperatures dip dangerously low, the Ohio Department of Transportation District 4, which includes Mahoning and Trumbull counties, switches from road salt to a combination of beet juice, salt and calcium to melt snow and ice on the roadways.
The district has been using the mixture for several years to treat roads in frigid temperatures.
"It's sticky because beets are sticky so it sticks to the roads," said Justin Chesnic, ODOT District 4 spokesman. It washes off of vehicles, though, in a regular cleaning.
The beet-juice mixture is reserved for very cold temperatures though, as it's more expensive than other materials.
While weather forecasts aren't calling for snow accumulations today, motorists still must be wary of snow that's blown across roadways, Chesnic said.
ODOT crews will be out plowing and treating those areas as needed.
Dominion East Ohio also urges customers to practice conservation during the cold snap.
"As always, we want all of our customers to be safe and careful during this extremely cold weather," said Scott Miller, vice president and general manager of Dominion East Ohio. "Customer safety, as well as the safety of our employees, is our highest priority.
"During this extreme cold weather, Dominion East Ohio asks all customers to voluntarily turn down their thermostats and to lower the setting on their water heaters if they can do so safely, and for businesses to reduce the use of natural gas for manufacturing or processing, if practicable. These conservation efforts through this Wednesday will help keep natural gas supplies flowing to all Dominion customers."
Dominion East Ohio, which serves about 1.2 million customers in the state, was seeing huge demand as temperatures plummeted Monday and today.
Neil Durbin, a spokesman for the gas supplier, said the company sent out 2.3 Bcf (billion cubic feet) of natural gas to customers Monday and was planning for another 2.1 Bcf today. The send-out for a typical January day, he said, was 1.5 Bcf.
Dominion East Ohio is relying on a combination of gas from the interstate pipeline connection, underground storage reserves and, for the first time, natural gas from the Utica Shale to meet the demand.
"We'll be able to meet the needs today and tomorrow and through the winter-heating system," Durbin said.
More like this from vindyarchives.com