Big 12's Iowa State hires YSU's Mangino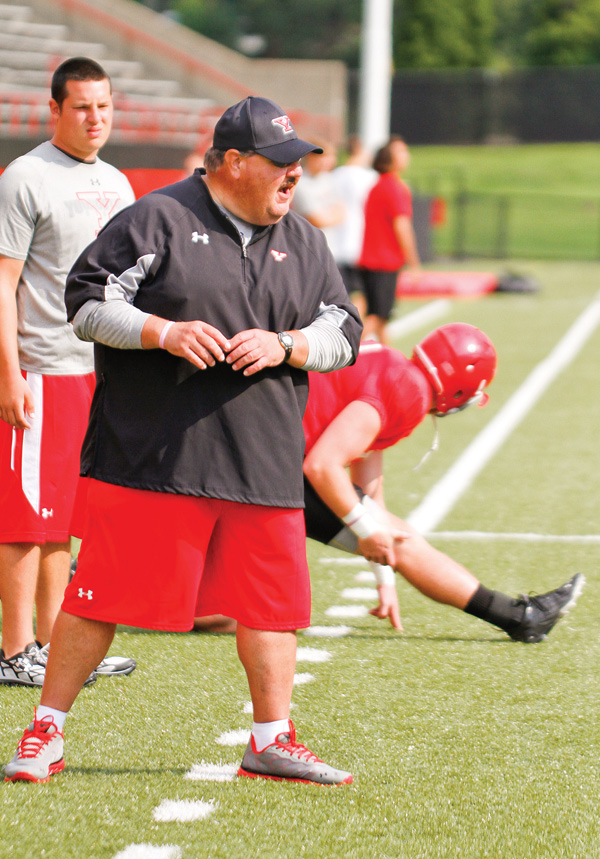 ---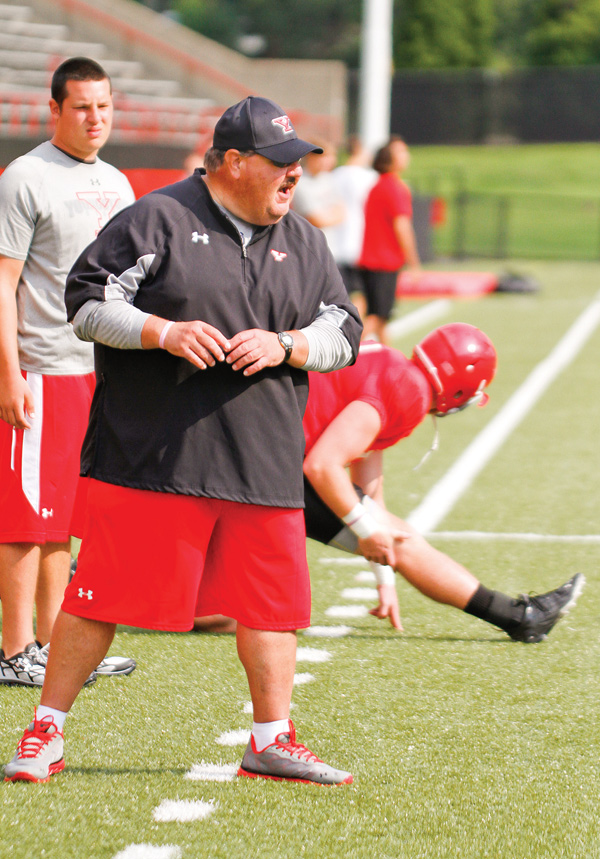 Photo
Mark Mangino served as assistant head coach and tight ends coach in his one season at Youngstown State University. He'll be Iowa State's offensive coordinator next fall.
Staff report
YOUNGSTOWN
In the mid-1980s, a brief stint at Youngstown State helped launch the career of a young coach named Mark Mangino.
YSU is doing the same thing for the second phase of Mangino's college coaching career.
After a one-year stint as YSU's tight ends coach, the New Castle, Pa., native was hired on Monday as the offensive coordinator at Iowa State, marking a return to the conference where he's had the most success.
"I am beyond thrilled to welcome Coach Mangino to the Cyclone football family," ISU coach Paul Rhoads said in a release. "He has an imaginative offensive mind, an ability to play to his players' strengths, a track record of winning and a tremendous familiarity with the Big 12 conference. In terms of calling plays and executing a game plan, he is top shelf."
Before returning to YSU, Mangino coached eight years at Kansas, inheriting a team that had suffered six straight losing seasons. He turned a two-win team into an Orange Bowl champion in five years, winning FBS national coach of the year honors in 2007.
The Jayhawks went 50-48 from 2002-09 under Mangino.
"He has learned from a 'Who's Who' of college coaches, effectively led his own championship program and is respected throughout the coaching ranks," Rhoads said.
Mangino, who also served as the associate head coach and recruiting coordinator for the Penguins last fall, returned to his alma mater after taking three seasons off from 2009-11.
In one season with Mangino, YSU tight ends Nate Adams, Carson Sharbaugh and Jacob Wood combined for 26 receptions for 356 yards and six touchdowns.
Adams and Sharbaugh were both honorable-mention all-conference honorees.
Mangino began his college coaching career at YSU under Bill Narduzzi in 1985 and stayed on for one year under Jim Tressel in 1986. After three years at Geneva College, he was hired at Kansas State, where he coached future YSU coach Eric Wolford.
He stayed in Manhattan from 1991-98, then was hired as the assistant head coach and offensive coordinator under Youngstown native Bob Stoops at Oklahoma.
Mangino and the Sooner staff took a program that was 5-6 in 1998 and carved out seasons of 7-5 (1999), 13-0 (2000) and 10-2 (2001). The 2000 season saw the Sooners win the Big 12 Conference championship, finish ranked No. 1 nationally and beat Florida State in the Orange Bowl to win the national title.
Mangino was the recipient of the 2000 Frank Broyles Award as the top assistant coach in college football.
More like this from vindyarchives.com