Family, friends celebrate 50th with the Loves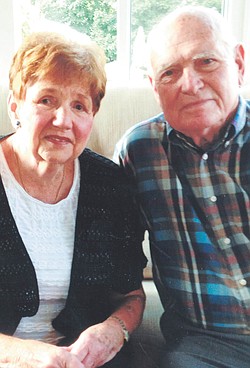 Photo
Mr. and Mrs. Richard Love
BOARDMAN
Mr. and Mrs. Richard Love of Boardman celebrated their 50th wedding anniversary at a dinner with family and friends Aug. 17 at Johnny's Restaurant.
Hosting the event were their daughter and son-in-law, Jennifer and Joel Enright of Youngstown.
The has two other daughters, Cynthia Love of Columbus and Sharon Love of Port Richey, Fla., and five grandchildren.
The former Judith McSweeney and Mr. Love were married Aug. 17, 1963, at St. Dominic Church, Youngstown.
They are members of St. Dominic's and St. Charles Church in Boardman.
Mrs. Love retired in 1999 as a teacher in Youngstown City Schools. She is a member of the Catholic Collegiate Association, Mignonette Garden Club and 500 Card Club. She also belongs to the Mahoning Valley Retired Teachers Association.
Mr. Love worked for the Mahoning County Engineer's Office as an accountant before he retired in 2000. He served in the U.S. Navy from 1949 to 1953.
More like this from vindyarchives.com