SENIOR SALUTE: BAND EDITION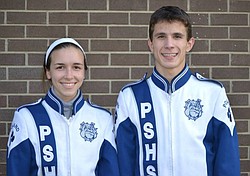 Photo
Neighbors | Submitted .STEPHANIE FRAY AND PETER MAJETICH
Names: Stephanie Fray; Peter Majetich
Instruments: Clarinet; Alto and Tenor Saxophone
Q. When did you start playing your instrument?
A. Fray and Majetich: Both began playing their instruments when they joined the fifth-grade band.
Q. Best memory of being in band/marching band?
A. Majetich: I enjoyed playing with the Wind Ensemble and performing at the Holy Family Christmas Concerts in December. I also really enjoyed going to Canfield and Massillon Band Nights. I also got to play with the pit orchestra for "Singing in the Rain." I made a lot of great friends. I enjoyed performing at the PSHS basketball games with the Jazz Band – it was an awesome experience for the past four years!
Fray: Making a lot of new friends, which I still have today. Band taught me how to be dedicated and committed.
Q. What competitions did you participate in and awards you won?
A. Majetich: I have participated in Solo Ensemble when I was in the fifth, sixth, seventh and eighth grades.
Fray: I have participated in District Contests.
Q. Why is music important to you?
A. Majetich: I just love playing music, especially with the Jazz Band. One of my favorite musical numbers was "Sing Sing Sing – Big Band" number and we nailed it!!
Fray: It allows me to express myself. One of my favorite musical pieces was "Riverdance" because it was a great song and fun to learn; "Cruise" because I love that song and "All of the Lights" because my friends and I recommended it to our band director.
Q. What college do you hope to attend/intended major?
A. Majetich: I plant to attend YSU and major in Education.
Fray: I plan to attend Duquesne University. I would like to be a physician assistant or nurse practitioner.
More like this from vindyarchives.com