Season of change: Jackson-Milton's Bluejays taking flight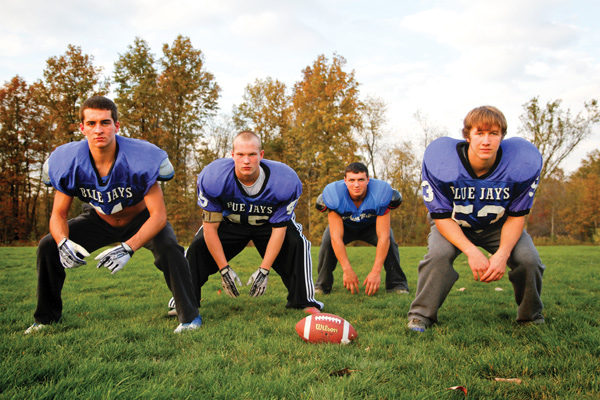 ---
Team
| Record | Div. | Conf. |
| --- | --- | --- |
| 4/6 | Div. VI | Mahoning Valley Athletic Conference |
By Steve Ruman
NORTH JACKSON
Autumn, 1997!
The Cleveland Indians lose a heartbreaking seven-game series to the Florida Marlins in the World Series. The city of Cleveland is without a professional football team. John Cooper is in his 10th season as coach of the Ohio State Buckeyes, while Jim Tressel is poised to lead Youngstown State to its fourth national title.
Closer to home, East downs Chaney 14-8 to capture a Youngstown City Series league title, while the Steel Valley Conference championship is shared by Boardman and Warren G. Harding.
While the sports landscape has changed drastically over the past 16 years, some things remained constant. For instance, after going 6-4 in 1997, Jackson-Milton went 15 straight years without recording a winning record. During that span, the Blue-Jays' overall mark was 45-103.
However, the Bluejays can now boast that they, too, have changed with the times.
With a home win last Friday over Lowellville, Jackson-Milton (6-3) recorded its sixth victory of the season and guaranteed itself of its first winning season since '97. The Bluejays are still alive in the playoff hunt, currently ranked 12th in Division VI, Region 19.
Jackson-Milton closes its regular season tonight by hosting McDonald (6-3, ninth in Division VII, Region 23).
While the Bluejays need not only a win but outside help to reach the postseason for the first time in school history, the 2013 campaign has already been a season of triumph. A year ago, the Bluejays went 0-10.
"Honestly, we really didn't know what to expect at the start of the season," said Jackson-Milton coach Mark Assion. "We knew we had the potential to put something special together. We had the players to make it happen.
"But at the same time, we knew our guys had to figure out how to win games. They had to figure out how to finish. Winning takes more than just talent, and it can't be taught in practice. These guys had to figure it out on Friday night."
Indeed, the Bluejays figured things out in Week 2 with a resounding 55-15 win over Rootstown. The victory came one week after Jackson-Milton lost in dramatic fashion to Southington. In that game, the Bluejays led 17-7 at halftime when a power failure forced the game to be suspended until the following morning.
Southington rallied to win 19-17.
"That was a tough loss, but looking back it was a helpful one," said senior running back and linebacker Tyler Shaffer. "We realized that day that we had what it takes to compete. But we also realized that we had to learn how to play four quarters. We learned a lesson that helped the rest of the year."
Jackson-Milton followed its win over Rootstown with a victory at Windham. Losses followed against Western Reserve (9-0) and Wellsville (8-1), but the Bluejays have since won four straight.
Like Shaffer, Assion said he believes the opening-week loss helped trigger the season-long success.
"The team had an 'unfinished business' mentality heading into the Rootstown game," Assion said. "They felt like they didn't finish the job in Week 1, and they let one slip away.
"Going into Week 2, there was a renewed sense of dedication which has stuck with this team all year long."
Jackson-Milton's 38-man roster is a blend of experience and youth. Along with 11 seniors, there are 13 sophomores. Three sophomores start on both offense and defense.
"The neat thing about our team this year is that everyone looks out for each other," said sophomore linebacker Mike Assion. "Our seniors are very committed. They are very serious about winning, and I don't know if we had that type of leadership in the past."
"The upperclassmen will go out of their way to help us sophomores. They don't view us as a threat or anything like that. We are one team, one family. It's all about us achieving team success."
The Bluejays have achieved team success thanks in large part to a high-powered offense which is averaging 34.4 points per game.
Senior quarterback Jeremy Fitzpatrick has completed 151 of 256 passes for 2,039 yards, including 19 touchdowns.
Fitzpatrick, who also plays baseball, didn't play football until his junior year. Last season, he threw for 1,976 yards.
"It was nice coming in and throwing for what turned out to be some school records, but at the end of the day we went 0-10 so the numbers really didn't mean anything to me," Fitzpatrick said. "This year, it's all about what we do as a team. I'm still putting up big numbers, but it's because the design of our offense and the guys I have around me.
"The numbers mean a lot more to me this year because they are resulting in team success."
Fitzpatrick's favorite targets include Thomas Gatewood (61 receptions, 1,106 yards, 15 TDs) and Mike Assion (43 receptions, 419 yards, 2 TDs). When the Bluejays aren't throwing the ball, they are often handing off to Shaffer, who has rushed for 975 yards and nine touchdowns on 195 carries.
Yet while the Bluejays are making headlines with their potent offense, Mark Assion says that the play of the defense is the key to the season-long turnaround.
Last year, Jackson-Milton surrendered a staggering 46.6 points per contest. In their six wins this year, the Bluejays have given up just 90 points. They are allowing opponents to gain just 239 yards per game.
"We knew that if we were going to be successful, it had to start with defense," Mark Assion said. "We felt we had the players, they just had to learn their roles and they had to make the plays.
"This is the best defensive unit we've had since I've been here. We play aggressive up front, so we often put our defensive backs in one-on-one situations, and they respond."
Assion described his linebacking corps as "the heart and soul" of the defense. It includes Shaffer (108 tackles) and Mike Assion (55 tackles, seven sacks), along with sophomore Anthony Italiano (122 tackles, 4 sacks) and junior Ryan Morgan (58 tackles, nine sacks).
"Anthony is like a Tasmanian devil out on that field. He wreaks havoc, and the opposition never knows quite what to expect from him," Assion said. "Tyler is a freight train. He loves to hit, and he always does exactly what the coaches ask him to do. He's a natural leader."
Shaffer said that the defensive success is the result of dedication spurred on by last year's struggles.
"If you look at our scores last year, there were a number of games where we scored more than enough points to win, it was just that the defense let the team down," Shaffer said. "We took it kind of personally. We knew our offense would be even stronger this year, and we didn't want it to go to waste.
"Defensively, we've really put in the work and we've stayed focused all year long. We continue to work to get better every day in practice."
With a win tonight, Jackson-Milton can secure its first seven-win season since 1992. It would also give the Bluejays their first win over McDonald since 2006, when the two teams battled in a four-overtime affair. A victory would also have Jackson-Milton fans scattering for statewide scores as they study their playoff fate.
Regardless of the outcome, Assion said his team has not only achieved success this year, but has helped set the tone for the future of the program.
"I honestly believe people will look back on this team and view it as the group who helped turn things around," he said. "Our seniors have been great leaders and role models, and the rest of the team are following their lead. Because of that, our future looks bright."
More like this from vindyarchives.com