Formal garden at Stambaugh Auditorium revamped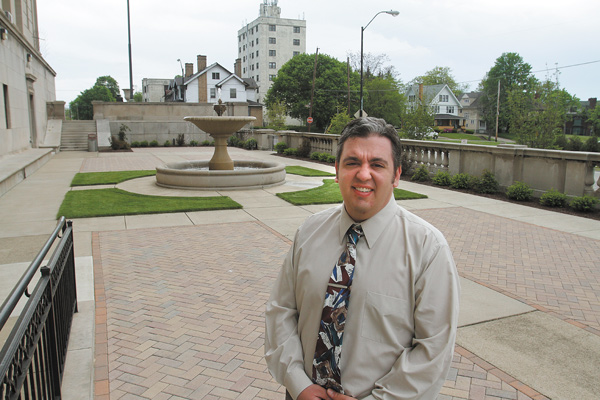 ---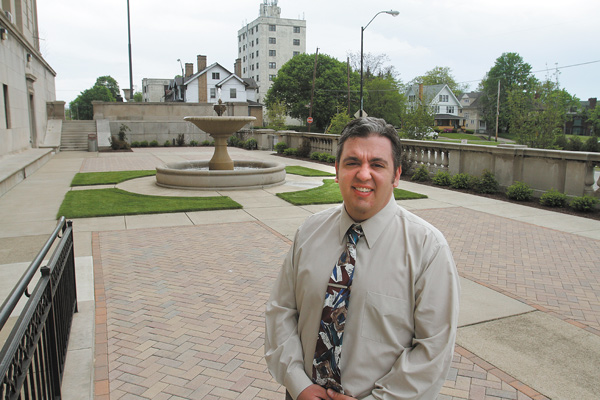 Photo
Chris Lewis, director of marketing and public relations at Stambaugh Auditorium, stands in the newly renovated formal garden space. Overgrown trees were removed to open up the area, available to rent for small events. Brick pavers were added. This summer, the space will be used for weekday concerts.
By LINDA M. LINONIS
Youngstown
The formal garden at Stambaugh Auditorium, original to the building constructed in the 1920s, blossoms with new plants and conveys a simple, uncluttered look.
That's because a row of trees, which once dominated the center of the garden, has been removed. "The trees were getting too big for the area. It looked like a jungle," said Chris Lewis, director of marketing and public relations.
The roots of the trees also were causing damage in the garden, added Matt Pagac, general manager.
The garden overhaul was started last summer and completed in late September. Stambaugh Pillars, which promotes the auditorium and conducts fundraising, funded the renovation.
A dedication is planned at 9 a.m. May 30, when an announcement about after-work, weekday concerts will be made. Invitations were issued for the dedication, and other interested people may attend.
The fountain is now the focal point of the open area of the garden area, which is detailed with brick pavers. Fiber-optic lighting also was added, Pagac said, adding the illumination is beautiful in the evenings.
The plantings around the concrete and brick center include knock-out roses. "They bloomed into December last year," Lewis recalled.
The area also has Summer Wine ninebark shrubs, (a deciduous plant) that provide year-round interest with blooms in early summer and colorful foliage in summer and fall. "Limelight" hardy hydrangea features chartreuse blooms in midsummer that maintain color into autumn.
Along the perimeter outside the garden are new plantings of dogwoods.
For events during mild weather, Pagac said, the garden provides another place for "people to gather" during intermission. There is built-in seating of sorts in a concrete bench on the south side of the building.
The formal garden is available to rent for weddings, cocktail events, small dinner parties, graduations and photo sessions. Pagac said a tent also could be set up in the area.
"The front steps and staircase inside are big draws for special photos," Pagac said. But, he noted, Stambaugh Auditorium is not a public building, and people must call first to make an appointment.
Pagac said Stambaugh Auditorium was part of Henry H. Stambaugh's will, and money from his estate funded the building.
He died in 1919. Construction on the auditorium began in 1925 and was completed in 1926.
The auditorium boasts a 2,500-seat concert hall.
The Anne Christman Memorial Hall is used for small dinner parties, weddings and recitals.