Arby's celebrates 49 years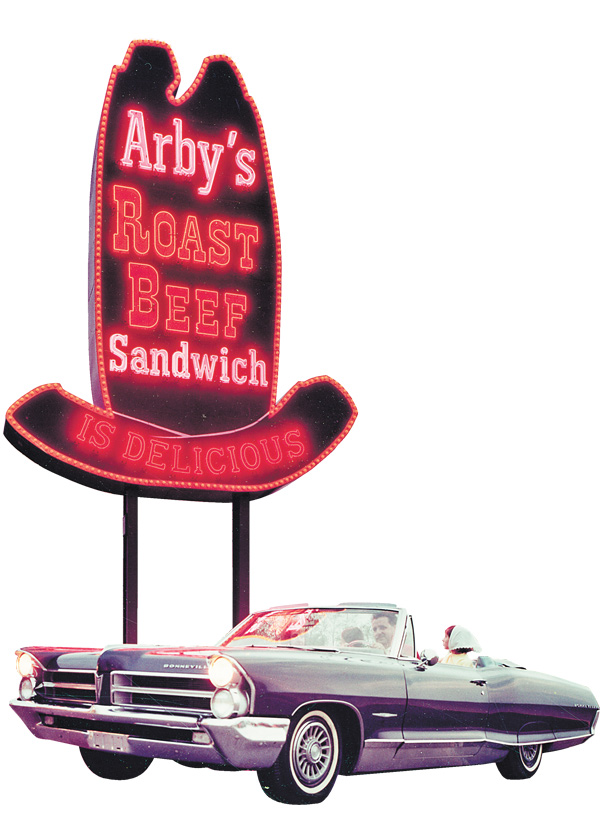 ---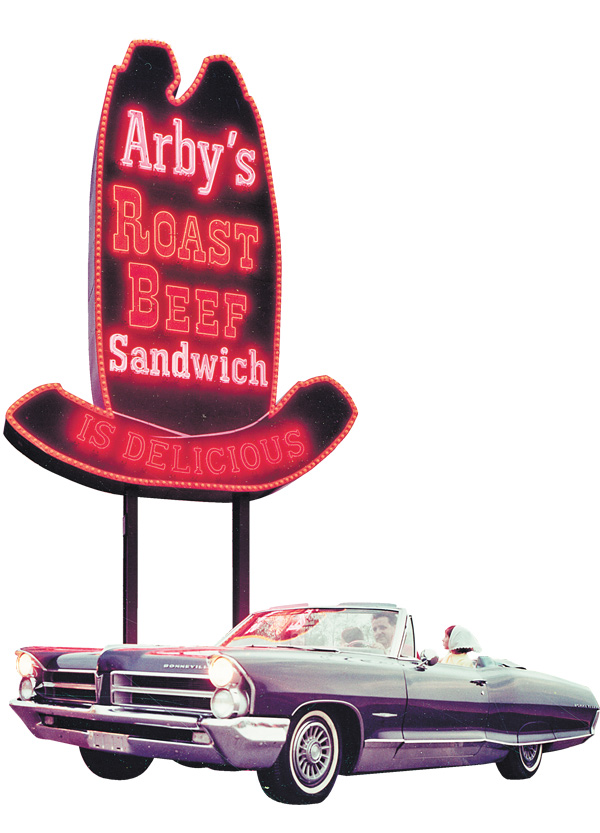 Photo
The fast-food chain that started in Boardman celebrates its 49th anniversary Tuesday
ARBY'S HISTORY
1964: Brothers Leroy and Forrest Raffel of New Castle, Pa., open the first Arby's restaurant July 23 in Boardman. They wanted to name it "Big Tex" but discovered there already was a business in Akron with that name. Arby's came from the first letters of the phrase Raffel Brothers, RB. By 1967, there were 150 outlets open.
1971: Kansas City suit seeks $4,250,000 from Arby's in February. Later that year, Arby's voluntarily goes bankrupt. The company reorganizes and in June 1975 breaks ground for a newly designed store on U.S. Route 224 in Boardman.
1976: By April, Arby's sets new first-quarter records. Royal Crown Cola buys a controlling interest, 51 percent, of Arby's in September. Later that month, construction of the new Arby's headquarters begins on Belmont Avenue. It is dedicated Aug. 4, 1977.
1977: Arby's sales hit $300 million, and the stores on Belmont Avenue and Route 224 are among the top 10 in sales nationwide.
1978: The Raffel brothers announce their retirement in December.
1980: Arby's headquarters moves to Atlanta in February. The Arby's in Kilcawley Center at Youngstown State University opens its doors in September.
1981: The first international Arby's opens in Japan.
1987: The national headquarters moves to Miami in June.
1989: Arby's begins accepting credit cards in August.
1991: The chain introduces more healthful options that include salads and sandwiches under 300 calories.
1994: Arby's becomes the first chain to ban smoking inside.
2008: Arby's merges with Wendy's International Inc.
2011: Arby's is acquired by Rourk Capital Group in Atlanta.
By Josh Stipanovich | jstipanovich@vindy.com
BOARDMAN
Over the last 20 years, Patrice and Jeff Harvey still get the occasional customers who come in with stories of the original Arby's.
One person, they recalled, was a part of the team who designed the restaurant that opened its doors to the public under the ownership of the Raffel brothers, Leroy and Forrest, on July 23, 1964, on U.S. Route 224.
Another was someone who attended the grand opening, and others are former students of the neighboring school who used to go there to buy a bun for a nickel.
"It's amazing the number of people who were around, though, that still come in and say, 'Oh yeah. I remember this when,'" Jeff said.
The Harveys' own Wild Birds Unlimited, the bird- supply store that operates from the same building in which the Raffel brothers did 49 years ago.
While the inside has been entirely redesigned, there are still vague inklings of when roast beef was cooking in a glass-walled rotisserie.
The original electrical box and freezer are still intact but not operating. Down the hall from the freezer is the Harveys' office, and on the north wall sit shelves with masking tape that barely read 16-ounce, medium and large lids.
"The old Arby's used to have a tiled bowl in the center of the back room. Somebody from Arby's headquarters had come over, and they wanted to see it, and it's not there," Patrice said. "And I had to actually take him back there to prove there are no tiles on that back floor."
About 40 yards down the road, on the opposite side of Route 224, is where the new original Arby's is located and has been since 1975.
Inside, several old photographs — framed and hung on the walls — paint a picture of the rich history of the now successful fast-food chain that started in the Mahoning Valley.
And that history is still used as a pitch during the interview process, said Charlene Bailey, general manager of the Arby's on 224. "We're proud of it," Bailey said.
She said though time has passed, some customers still come in and don't know of the Valley's near 50-year-old secret.
Jessica Breese, assistant manager of the 224 location, said Arby's has been trying to buy back the original store for years so they could turn it into a museum.
The fast-food chain is celebrating 49 years Tuesday and will be selling its Classic Roast Beef Sandwich for 64 cents.
"I'm actually pleased to see that success," said Leroy Raffel, 86, who now lives in Florida.
Lisa Jablon, of Hunter Public Relations, said details for the chain's 50th anniversary are already being figured out, but she refused to say what they are.