Valley kids to seniors seek relief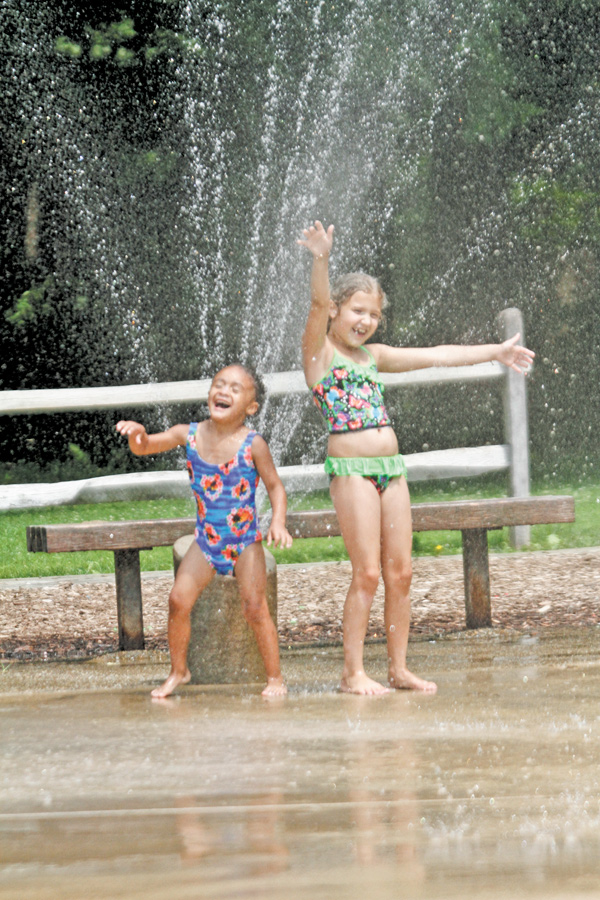 ---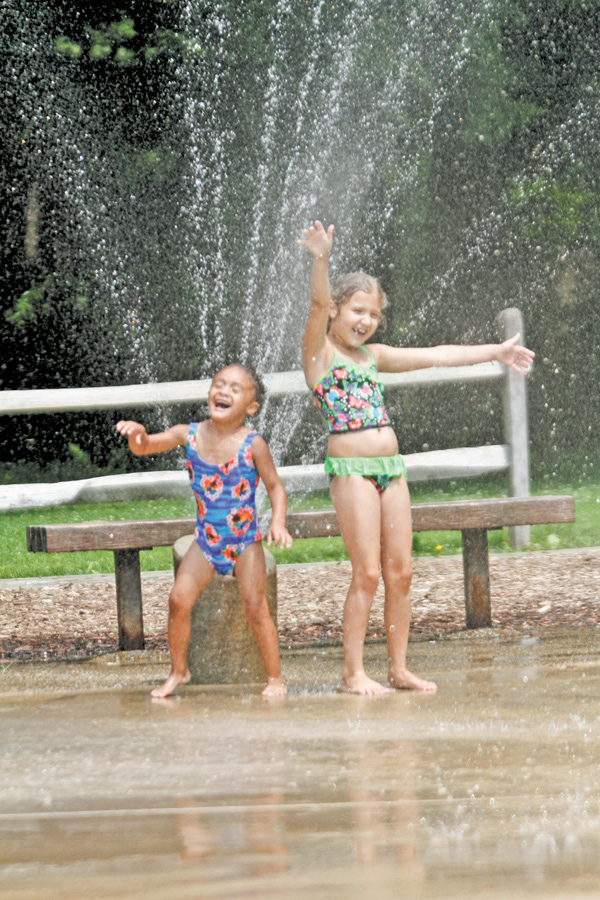 Photo
Aaliyah Massrock, 3, left, and Tatum Thomas, 8 enjoy the cool, refreshing spray from a sprinkler at the Walter Scholl Recreation Area in Mill Creek Park. Temperatures reached 89 degrees in the Valley on Tuesday.
Staff report
YOUNGSTOWN
ALLAURA MASSROCK drove her 3-year-old twins from Lake Milton to meet friends at the Scholl Recreational Area at Mill Creek Park at about noon Tuesday to enjoy the cool water that shoots from a fountain.
"We're just letting the kids play in the sprinklers," Massrock said, weathering the Mahoning Valley's first seasonal streak of 90-degree weather.
Thomas Marker, Massrock's friend from the city's West Side, said the sprinklers at the park are great — especially for people who can't afford a swimming pool.
"A lot of people can't afford it, and it's too far to travel to a lake or somewhere to swim. It definitely makes it nice," Marker said. "It's a blessing for the kids. You don't have to keep them inside all day ... It's nice to be able to bring them out and have them exercise and play and get out of that heat, because it's unbearable."
Massrock said the sprinklers are in an ideal location. The kids are able to play at the playground then run through the sprinklers when the heat gets the best of them.
"It's too hot to let them go outside and ride their bikes," Massrock said.
We're in what is traditionally the hottest time of the year, except the average highs now are about 10 degrees higher than usual.
The average high temperature for July 7 to 22 is 82
degrees in the Mahoning Valley, according to the
National Weather Service.
It will be in the low 90s for the next few days, and very humid, said Karen Oudeman, a meteorologist with NWS in Cleveland.
That won't end until showers and thunderstorms, expected Friday night, drop the highs back to normal, she said.
It's expected to be in the low 80s Saturday to Monday, she said.
"When it rains, the temperature might be 80, but it will be super humid, and it will still feel pretty uncomfortable," Oudeman said.
Though it's been warmer than usual, the Valley likely won't hit record temperatures any day this month.
The record high temperatures for July range from 95 degrees for July 20 in 1991 and July 30 in 1940 to 103 degrees on July 10, 1936, according to NWS statistics. [The high temperature for this July 10 was 86 degrees.]
Last July, the temperature reached at least 90 degrees nine days, including a high of 96 July 17.
The only day so far this July to reach at least 90 degrees was Monday; 89 was the official high Tuesday.The temperature is expected to hit 90 today, Thursday and Friday.
Tatum Thomas, Marker's 8-year-old niece, said she was having a great time running through the sprinklers and said she would "cry" if the fountains weren't there.
"[We] have a million, bazillion fun," Tatum said of the time she spends at the park.
HEAT DANGERS FOR SENIORS
But for some, the heat can be dangerous. The Area Agency on Aging 11 in Niles urged people with disabilities and older adults to take precautions.
"Too much heat is not safe for anyone. It is even riskier if you are older or if you have health problems. It is important to get relief from the heat before you begin to feel confused or faint. Older adults are encouraged to stay in air-conditioned buildings, eat regular meals, drink plenty of fluids and avoid coffee, tea, and alcohol," said Lisa Solley, chief of community relations, wellness, training and human resources at AAA 11
Being hot for too long can cause several illnesses, all grouped under the name hyperthermia. It is important to get to a cool place before heat exhaustion becomes heat stroke, which is a medical emergency. Older people living in homes or apartments without air conditioning or fans are at most risk, Solley said.
People 65 and older are more prone to heat stress than younger adults, according to the U.S. Centers for Disease Control and Prevention, because they don't adjust as well to sudden changes in temperature, they have more chronic health conditions that change normal body responses to heat, and they more often are taking prescription medicines that impair the body's ability to regulate its temperature and that inhibits perspiration.
"We are encouraging neighbors to check on their neighbors who are older," Solley said.
For information on home energy assistance or other resources, call the Agency's Aging and Disability Resource Center at 800-686-7367 or call Help Hotline's 211 number for 24/7 assistance.
As part of an agreement between Youngstown State University and Ohio Edison, the university reduces its power use during peak-load periods, said Ron Cole, YSU spokesman. That happened both Monday and Tuesday afternoons.
The university is one of the larger users of energy in the area, he said.
As part of the agreement, air conditioning is either turned down or off in all buildings for two to four hours.
Lighting in hallways is also reduced to comply with the agreement. The AC later kicks back on.
"We are compensated for that," Cole said, although he didn't have specific numbers available.
More like this from vindyarchives.com