You know it's cold when ice skating warms you up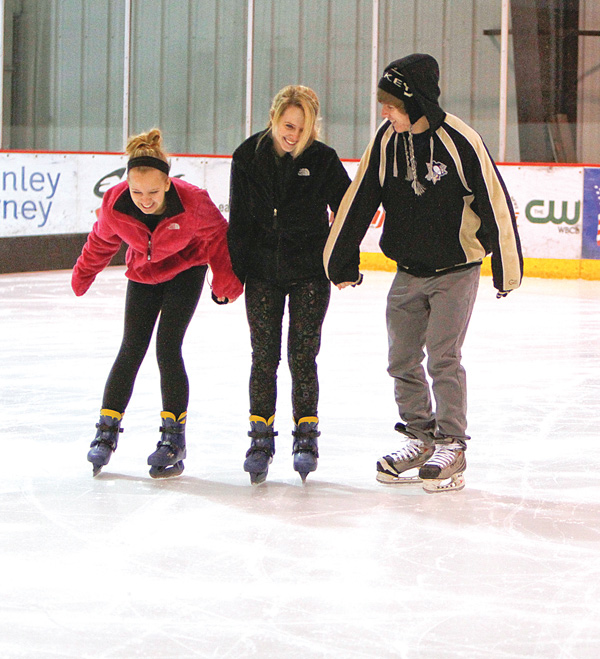 ---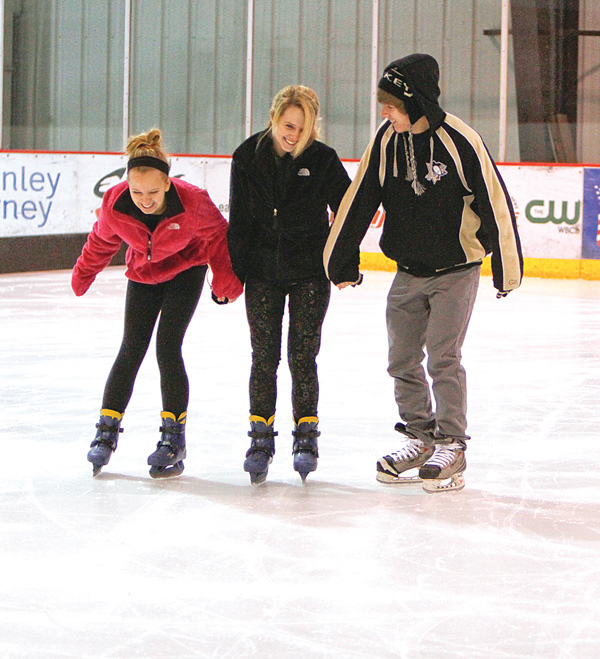 Photo
Unusually cold conditions Tuesday closed most Mahoning Valley schools. As a results, many students hit the ice at the indoor Ice Zone in Boardman. At left, from left, Taylor Vanasdale, 14; Alexis Madeline, 17 and Jared Vanasdale, 17 enjoy their unexpected day of recreation. Conditions will remain cold today with wind chills dropping to minus 17.
By Ashley Luthern
aluthern@vindy.com
BOARDMAN
It was so cold Tuesday that some Mahoning Valley students warmed up by ice skating.
Many Valley school districts delayed their start times or closed Tuesday and today when temperatures barely rose above single digits, and wind-chill advisories swept through the area.
Sisters Hannah and Brooke Chandler knew exactly where they wanted to go on a "cold day" — the Ice Zone on McClurg Road.
"They called me at 11 a.m., and it didn't surprise me that they wanted to come here," said the girls' grandmother Kathy Mowrey.
Hannah, a fifth-grader at Poland McKinley Elementary, and Brooke, a third-grader, brought their own skates.
"I love skating," said Hannah, who is on a youth developmental hockey team.
"I usually come three days a week for open skate, and I love it," she added.
For Lakeview Middle School fifth-graders Nate Charnas and Jake McDivitt, Tuesday was their first skate of the season. Jake's father, Ted McDivitt, was lacing up his skates alongside the boys.
"We check out the ponds or Mosquito Lake to see if they are frozen. If they're out ice fishing, we can be out skating," McDivitt said. "This is really the only place [nearby] you can go skating indoors."
He said the day off worked out well.
"We wanted to come [Monday] but the open skate was really early, 5 a.m. to 7 a.m.," McDivitt said Skip Mackall, Ice Zone general manager, said the early time on Martin Luther King Jr. Day is to allow skaters to attend church events, participate in service projects and do other activities on the holiday. The Ice Zone usually has an "open skate," where anyone can use the ice, from 12 to 2 p.m. daily.
"We had 220 kids [Monday]. It was very popular," he said.
Mackall said even though ice skating is available year-round at the Ice Zone, it's always more popular in the winter.
"It's interesting. When it's so hot you would think that's the time people would come, but people identify it as a winter sport, and that's when they come," he said.
Mickie Welsh, of Austintown, said it was the "perfect day" to take her children Andrew and Sarah Welsh, 10th- and seventh-graders in Austintown, to ice skate.
"Sarah's been wanting to go, and today just seemed like the perfect day. They didn't have school, and I already had the day off from work," Welsh said.
Welsh said she understood the rationale behind the school cancellations.
"I understand why they canceled. You can't let the kids out there; It's too much, especially for the little kids," Welsh said.
Sarah answered quickly when asked if she would still be ice skating if the rink was outdoors.
"No," she said, shaking her head as she finished tying her skates.
The temperature isn't going to get much higher in the coming days, said Mark Adams, a meteorologist with the National Weather Service in Cleveland.
The expected high for today is 15 degrees and dropping to a low of 8 degrees. The wind chill today will be minus 17. On Thursday and Friday, the high is expected to be 20, with a low of 11 degrees on Thursday and 10 on Friday, Adams said. On Saturday, the expected high is 21 degrees, and dropping down to a low of 7 degrees that night.
"We will be well below normal," Adams said. "It's unseasonably cold."
The average high for this time of the year is 32 degrees to 33 degrees with an average low of 19 degrees.
The high for Sunday is expected to be 25 degrees with a low of 20.
But the Valley will see higher-than-average temperatures for Monday, 36 degrees, and Tuesday, 42 degrees, Adams said.
Despite this cold stretch, the temperature hasn't dropped below zero this winter. The record low for the Valley is minus 22 degrees on Jan. 19, 1994.
Until Monday, the Valley was on pace to have one of its 10 warmest January months in recorded weather history, which dates to 1897. Even with the recent low temperatures, the area is about 5 degrees warmer this January than average.
Contributor: David Skolnick
More like this from vindyarchives.com