The murder of Teddy Foltz, 14, was the top news story of 2013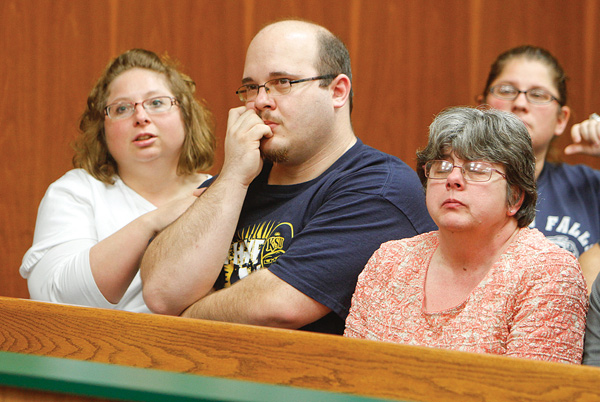 ---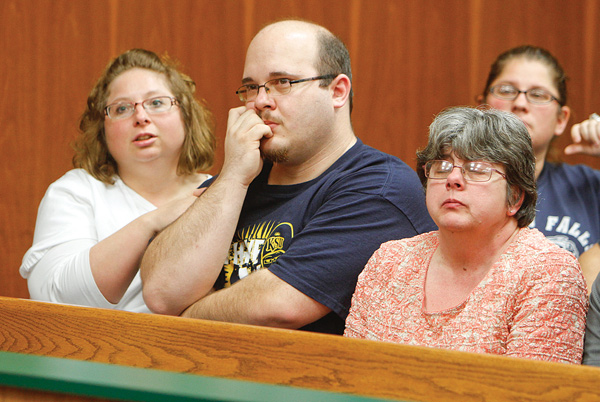 Photo
Shawn Tedesco, Teddy Foltz's biological father, center, attends the arraignment of Zaryl Bush.
By Joe Gorman
Youngstown
What happened to Teddy?
In an area that can sometimes become hardened to crime, the violent death of 14-year-old Teddy Foltz on Jan. 26 from a beating he sustained at the hands of his mother's ex-boyfriend shocked and horrified people across the Valley. After Teddy's death, accounts came of the abuse he and his then 10-year-old twin brothers were subjected to by Zaryl Bush, the man convicted of killing Teddy. Making things more confusing were the seeming inactions of Teddy's mother, Shain Widdersheim.
Police and social workers said Bush forced the three boys to do chores, beat them repeatedly and forced them to stand outside in freezing weather. The mother, meanwhile, took her children out of two school districts and homeschooled them when questions arose concerning the treatment the boys were receiving at home.
Both pleaded guilty for their roles in Teddy's death, and both were sentenced to the fullest by Judge R. Scott Krichbaum of Mahoning County Common Pleas Court, who told Bush his actions were "demonic" and told Widdersheim she did not deserve the title "mother."
New mayor for Youngstown
John A. McNally, the former Youngstown law director and Mahoning County commissioner, was elected mayor in November after an election that some said was a bit lacking.
McNally, who eked out a Democratic primary win in May over council President Jamael "Tito" Brown, was dogged by his role in the Oakhill conspiracy case, where he was indicted on corruption charges. Those were dropped against him and several other county officials accused of colluding with others to block the county's purchase of the former Forum Health Southside Medical Center.
His main opponent in the November election was DeMaine Kitchen, a former 2nd Ward councilman and chief of staff to Mayor Charles Sammarone. Kitchen was dogged by problems of his own, including the revelation he owed money for back taxes and being accused of sexually harassing Lyndsey Hughes, who works for council and is in charge of downtown events. In an independent investigation ordered by Sammarone, Kitchen admitted to an investigator that he made inappropriate and flirtatious remarks to Hughes.
The general election was nowhere as close as McNally's primary win over Brown. But the race also was known for the "characters" who also were running.
One candidate, John Crea, was arrested for threatening a Youngstown City Hall security guard and spent several days in jail because he could not post bond. As part of his sentence, he was ordered to undergo a mental-health evaluation and barred from stepping foot in city hall unless he was there in an official capacity. Just hours after he was released from jail he attended a debate of the candidates, then was arrested again for threatening neighbors and skipping his court-ordered evaluation.
Focus on fracking
Despite being defeated twice in 2013, backers of an amendment to the Youngstown City Charter that would ban the process of hydraulic fracturing, or fracking, in the drilling industry, say they will bring their measure before voters in Youngstown for a third time in 2014.
Amendment opponents say the way the document is written would ban industries in the city from producing goods and supplies for the drilling industry and also would choke off economic development in the region. Proponents said the amendment is needed because fracking is a dangerous process that has been linked to earthquakes and can poison the region's water supply.
Despite the victory at the polls, the industry sustained a black eye at the beginning of the year when it was discovered waste from drilling sites was being dumped into a stream that flowed into the Mahoning River off Salt Springs Road on the far West Side. The company owner, Ben Lupo, was indicted on federal charges and is awaiting trial.
In October, ground was broken for a $375 million natural-gas processing plant in New Middletown, and this month a state study said there was a 30 percent increase in jobs in the shale drilling industry since 2011. Other groups, however, have said that not enough jobs have been added, and the economic impact of the natural-gas business in Northeast Ohio has been negligible at best.
Cold-case conviction
For almost 40 years, investigators and family members were haunted by the unsolved December 1974 triple homicide of Benjamin Marsh; his wife, Marilyn; and their daughter, Heather, inside their South Turner Road home in Canfield Township. In June, however, a man serving a life sentence for a double homicide in the Columbus area was indicted for killing the three in their home, where they were discovered by friends and family members.
A 1-year-old son, Christopher, was found amid the bodies more than 24 hours after authorities suspect the three were killed. Benjamin and Marilyn Marsh were shot; their daughter was beaten to death.
Authorities secured their indictment after a set of fingerprints collected off the garage door at the home were linked in 2009 to 64-year-old James Ferrara. Ferrara, a one-time worker at the General Motors Lordstown complex where Benjamin Marsh worked security, denied any involvement in the murders.
During trial, prosecutors never offered a motive for the murders and stuck to the fact they had — that Ferrara's prints were found on the door that was used to break into a house where three people were killed. It took the jurors parts of two days to convict Ferrara.
At his sentencing, Ferrara finally spoke, maintaining his innocence and saying he was not a coward who killed children, a liar or a thief.
Judge R. Scott Krichbaum, however, sentenced him to three life terms but with the double-homicide sentence he already is serving, it was doubtful he ever would have gotten out of prison anyway.
With a little help from his friends
Mahoning County Auditor Michael Sciortino had a lot of help in May after he was pulled over for suspected drunken driving on U.S. Route 224 in Canfield and was about to be arrested on a charge of driving under the influence when a high-ranking member of the sheriff's department showed up and instead gave Sciortino a ride home.
That official, Commander Thomas J. Assion, was later demoted, and the deputy who was to arrest him was suspended along with another high-ranking member of the department after Sheriff Jerry Greene ordered an outside investigation of the matter, which was handled by the Summit County Sheriff's Office.
Sciortino was reported to be the driver of a car who was slumped over the steering wheel in the drive-through of a fast-food restaurant on Route 224 and was pulled over a short time later by a deputy, who administered a field-sobriety test that Sciortino flunked.
Assion arrived at the scene and took custody of Sciortino, who was charged instead with a marked-lanes violation, which he pleaded guilty to in county court in Canfield and paid a fine.
The investigation found that Sciortino did not ask for preferential treatment during the stop. Comments made by Assion during the investigation showed he went to the scene to "get Michael Sciortino out of a DUI" and that Sciortino is a good friend.
Other than giving an apology for letting friends and supporters down, Sciortino has not commented publicly on the incident.
Warren gets violent
Things did not start well in the historic Capital of the Western Reserve, as a man was shot to death in an East Market Street bar early New Year's morning. Since then, the city has seen increasing violence.
Things culminated in a two-week period in the fall when 24-year-old TaeMarr Walker was shot and killed by police. The next week, police said Walker's brother shot and killed a man outside a West Market Street gas station after a Warren Township bar was shot up because, allegedly, the people inside were not upset over TaeMarr Walker being killed.
That led to the cancellation of the last football game of the season for Warren G. Harding High School because of threats that supposedly were made targeting police officers who were working security at the game.
Warren recorded nine homicides for 2013. But besides the homicides, there has been weekly instances of shootings, burglaries and robberies in the city.
The New Year's morning killing has not been solved.
If you build it, they will come
Backers of the new racino, also known as the Hollywood Gaming at Mahoning Valley Race Course, are priming for a big opening in fall 2014.
Construction has been steady on the grounds of the racetrack/casino on land between state Routes 46 and 11 in Austintown Township, and already the township is reaping the benefits as it used part of a $1 million check by the owner, Penn National Gaming, to pay off a communication system for its safety forces. The township stands to receive another $1 million from Penn National in 2015, part of an agreement where the money is being used for safety and infrastructure improvements.
There was concern about the project being delayed because of issues between Penn National and the state racing commission over the number of horse stalls at the facility, but an agreement was reached this month.
The $125 million, 100,000-square-foot facility will include a food court, sports bar, hundreds of indoor and outdoor seats, video lottery terminals and a 1-mile state-of-the-art racetrack.
Taking a Cruze
A strong November helped cement the Lordstown-built General Motors Cruze as the second most-popular model for Chevrolet, behind the Silverado pickup.
In 2013, Cruze sales have improved at a rate of 6.3 percent over 2012, hitting 230,062 units in a segment that has been one of the auto industry's most competitive, which is the selling of compact cars.
The strong numbers kicked in during the later part of 2013. For example, in November, Cruze sales increased by 8.3 percent over the same time period in 2012.
The Heroin craze
The rise of heroin use and abuse of opiate-based painkillers in 2013 strained the resources of both law enforcement and treatment centers.
It was not uncommon to find people passed out in cars from heroin overdoses, and the number of opiate-based overdose deaths was on the rise in both Mahoning and Trumbull counties.
Locally, experts pinned the increased use of the drug on a variety of factors, including the availability of heroin and its low cost.
In both Trumbull and Mahoning counties, people who were charged with selling heroin that contributed to the death of another person received harsh sentences.
On the street, police grappled with the problems of arresting heroin addicts, who at times were docile and at other times would flee either on foot or in a vehicle because they were afraid to go back to jail and begin going through withdrawal.
Brother Baker scandal
In January, the Catholic Diocese of Youngstown revealed that it had reached a settlement with 11 men who claimed they were assaulted by a former Franciscan friar in the 1980s while he was baseball coach and athletic trainer at John F. Kennedy High School in Warren.
Brother Stephen Baker also was accused of abuse in other states after his tenure at JFK and committed suicide at a Pennsylvania monastery on Jan. 26.
Some of the men had a press conference and described the abuse they were subjected to by Baker, which often took the guise of treatment for sports injuries.
Bishop George V. Murry, head of the diocese, apologized, offered to meet personally with any victim of abuse and also wrote a letter to JFK alumni of the time period during which Baker was there asking them to come forward if they were abused.
Attorneys who represented the first 11 have said others have come forward claiming they also were abused by Baker. In November, they asked the diocese for a $25 million settlement.