Smiths, family mark 50th anniversary at surprise dinner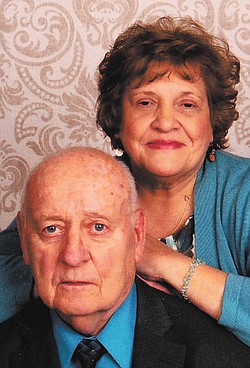 Photo
Mr. and Mrs. Gerald Smith
AUSTINTOWN
A surprise dinner Nov. 23 at the Hartville Kitchen honored Gerald and Judith Smith of Austintown for their 50th anniversary.
The couple's daughters and their families hosted the celebration: Lorie (Todd) Taylor of North Canton, Lisa Jones of Canfield and Tammy (Steve) Bennett of Norton, Ohio.
The couple have five grandchildren and one great-grandchild.
The Smiths were married Nov. 23,1963, at Cassville United Methodist Church in Cassville, W.Va.
They moved to the Youngstown area in 1965.
Mr. Smith worked as a driver for Roadway Trucking Co. before retiring in 2001.
He served in the Air Force from 1961 to 1965.
Mrs. Smith worked at West Virginia University and the Associated School Employees Credit Union in Austintown before retiring in 2001.
The Smiths are active members of the Westview Church of Christ in Austintown.