At Master's Bar and Grill ... You can be master of your burger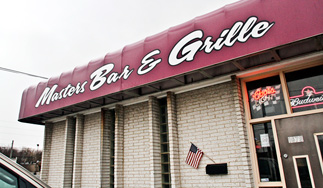 ---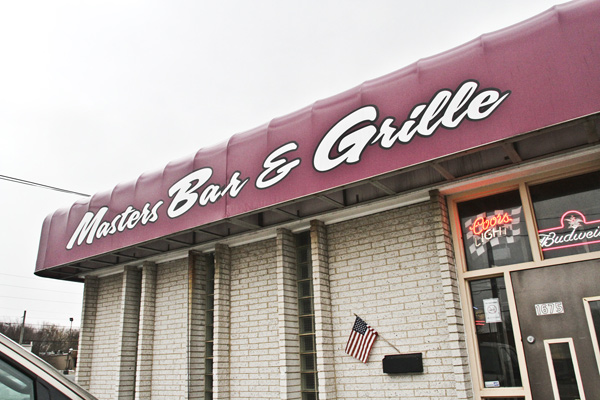 Photo
Master Bar & Grille in Liberty
When You Go...
Where: Masters Bar & Grill
1675 Trumbull Ave
Girard, Ohio 44420
Phone: (330) 759-1770
Hours: Sun - Sat: 11am - 2:30 am
Menu: 3 burgers ($4.75 - $6.00)
Fries are an extra $2.00
Payment: Only accepts cash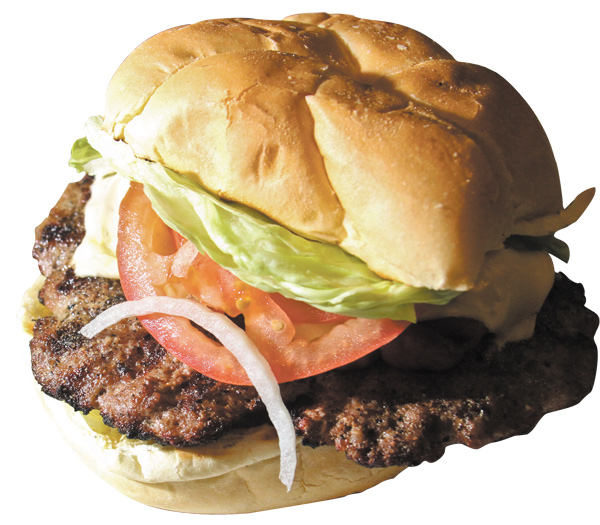 Photo
Burger from Masters Bar & Grill
You can be Master of your burger at Master's Bar and Grill
By Anthony M. Fuda
mvbrb@hotmail.com
You can be Master of your house, Master of your universe -- and now, thanks to Masters Bar & Grill, you can be Master of your burger.
Owner Monica Grachanin says "However you want your burger, we will do it." Monica and her husband, John, have owned Masters for the past 12 years where they have been serving the people of the Valley large portions of good, home-made food.
She adds their burgers are so good because they hand make each 10 ounce patty, adding their own special seasoning.
When you think of a friendly local bar, Master's is the place running through your head. You walk in and the regulars are sitting around the bar telling stories of the day. On the other side are two pool tables, a dart board, and a couple folding tables if you don't want to eat at the bar.
We started at the bar, and then our bartender/waitress Jen Sutherin guided us to the tables in the game room -- and we were ready for the task at hand.
Looking over the menu, we were offered three 10 oz burgers: a Master Burger, a Master Cheeseburger, and a Master Bacon Cheeseburger. Pretty simple, right? The reason for that John says is, he "wants the burgers to speak for themselves," and that's why there are no fancy toppings. He adds, "That just covers up the taste of the beef."
You can add staple toppings of lettuce, tomato, onions, pickle or mayo to any burger, as well as your choice of provolone, American or Hot pepper cheese.
The buns are brought in fresh twice a week, and even though they are big, they still have trouble containing this burger.
Everything is served a la carte, and we all went with fries for our side. For $2, you get more than a mountain of fries. We could have ordered two baskets and fed the five of us, and that is not exaggerating one bit.
Monica did the cooking tonight, and hand-made these 10 oz monsters for us. The burgers came out looking like hub caps on a bun - just plain huge. The beef hung over the bun and more than adequately held the large amount of fresh toppings. There was a nice char grilled smell and taste, and the seasoning was just right for me, but some of the guys thought it could have used a little bit more.
We thought we were getting special treatment until a couple of people walked by and said the burgers are always served that way.
I had the Master Bacon Cheeseburger and thought the bacon was great. It was nice and crispy and added that little extra to each bite. The beef had that char flavor from start to finish, and this burger should fill the heartiest of appetites.
Johnny said, "The Masters Bacon Cheeseburger is a 10 ounce, nicely seasoned, and well done patty. The bun was soft and started out firm, but was overwhelmed by the beef patty and sadly fell apart under the toppings. My burger was topped with grilled onions, melted provolone cheese, lettuce, tomato, pickles, mayonnaise and hearty bacon slices, and was sided by a massive order of fries. A great tasting burger at a great price. My wet-nap rating of 3 goes to this masterfully done burger."
Eric T noted, "The size of the burger didn't take away from the taste, which can happen in my experience."
JT remarked, "If you need a burger fix, this is a good burger at a good price. And the basket of fries is insane! If you can finish these fries after eating that 10 oz. burger, there's something wrong with you."
Monica said Master's is also known for their sausage sandwiches and home-made soups. That is, if you happen to have someone in the group who doesn't appreciate a good burger..
When you go and Master your own burger, you will see that you are really the one in charge of these 10 ounces of beef.
Make sure when you go you have cash, because Master's does not accept credit cards.
3 stars
Because of our readers, we keep finding hidden gems, so keep sending your great burger suggestions to mvbrb@hotmail.com, and like the Facebook page Burgerguyz so you can keep up with all the freshest burger news.
More like this from vindyarchives.com